Gipe Carrier Company
| | |
| --- | --- |
| Gipe car and propulsion | Gipe car at Didcot Railway Centre |
| | Advertisement in Dry Goods Review, Oct. 1921, p. 128 |
Emanuel Clarence Gipe of Freeport, Illinois took out a patent as early as 1891. The diagram below shows a system that used two wires to each station and cars with two sets of wheels. The wires were separated at the departure end with a lever device and brought together at the destination end. The separation of the wires propelled the carriage. In the "closed wire" system the wires could be closed as soon as the carriage had been despatched, giving a neater appearance. His first commercial product was known as the "Standard".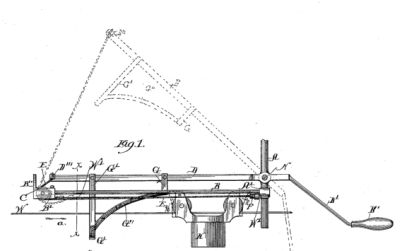 Gipe later owned the patents of the Air-Line cash and package carrier system, which sold extensively in the United States. He "disposed" of these (presumably by selling them to Lamsons) in 1903 on the understanding that he would not re-enter the carrier business in the United States for ten years. Instead he moved his business to Toronto, Canada, developed a new design, and sold many systems in England and other European countries, as well as Canada.
It was reported in 1909 (Busy Man's Magazine, May-Oct., p. 134) that there were "over 30,000 Gipe carriers in use in America alone... The Gipe carrier has overcome the weakness of all rubber and cord systems, with their delays, breakages and confusion. The system has no rubber or cords and the carriers are propelled by simply pulling the handle down a few inches... The Gipe Carrier Co. have their own well-equipped factory and office at 99 Ontario St., Toronto."
In 1912, the Gipe-Hazard Store Service Co. took over the business of the Gipe Carrier Co. and also that of the Hazard Store Service Co. with E.C. Gipe as the general manager. Canadian Grocer, 12 Jan. 1912, p. 43.
Gipe came to London in 1908 and set up the Gipe Carrier Co. Ltd. He sold a controlling interest to Lamsons but it was run as a separate company from a separate address - at first Gamage Buildings, 118 Holborn and later (at least by 1922) 180 Goswell Road. There was a representative for Devon and Cornwall, J.A. Earle of Redruth (Cornubian and Redruth Times, 25 Feb. 1909, p. 4), and probably others elsewhere. Marconi's International Register (1938) p. 262 gives Gipe's address as 56 Clerkenwell Road, London EC1. In 1944 the Gipe system was renamed the Lamson 'Ariel'. (I don't know whether this was just in Britain.) There is an example in Crich Tramway Museum.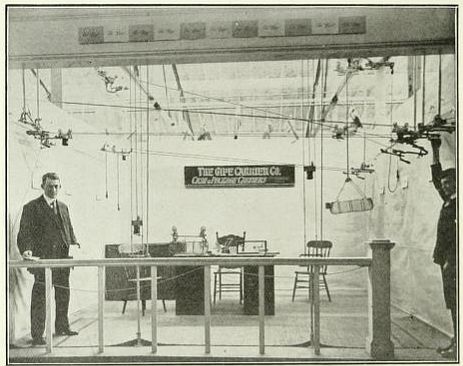 Gipe was able to re-enter the American market in 1914 as the Gipe Store Service Sales Company, with headquarters at the Medinah Building, Chicago. There was also a New York office at 5-9 West 37th Street. An advertisement in Merchants Record and Shop Window, July 1914, concentrated on the Gipe Grade Cash Carrier (which could operate easily on "steep grades"). One selling point was "No rubber or cords used on our cash carriers" and it claimed "The track wires are fully protected against crystalization, thus overcoming the breaking of wires." A guarantee was offered that if customers were not satisfied after ten days the carrier could be returned at the company's expense. All repairs were furnished free for five years, except the cords used on package carriers and lifts. The company made "high grade carriers for all purposes: level, grade, curve, loop-the-loop and basement loop cash or message carriers, elevated and low level package carriers and electric cable cash carriers." The advertisement also mentioned "electric cable cash carriers", although I have seen no other reference to these.
Canadian patent 169288 was issued on 9 May 1916 to the Gipe-Hazard Store Service Company Limited, the inventor being Frederick J. H. Hazard. An advertisement stated: "Every merchant who seeks maximum efficency should ask himself whether a Gipe-Hazard Cash Carrier, as a time and labor saver, is not worth more than the high-priced labor which it liberates. Are vou willing to learn more about our carriers? If so send for our new catalogue. J. Gipe-Hazard Store Service Co., Limited. 113 Sumach St.. Toronto." Canadian Grocer, 5 Jul. 1918.
An advertisement in the Merchants Record and Show Window, 1914, p. 49, featured "The New Gipe Basement Loop" to operate between the ground floor and basement, or any two or more floors, and also "The New Gipe Loop the Loop" (illustrated left). It states "we have finally succeeded in producing a simple and effective wire carrier to serve any location on second floor, no matter where cashier may be located on ground floor." This may be the system used in Anscombe's of Harpenden.

From advertisement in Macleans Magazine, June 1911, p. 238

Advertisement in The Co-operative Official, 1922

The Grade carrier was claimed to be able to manage "steep grades". (Merchants Record and Shop Window, July 1914, p. 4)

Gipes also made package carriers. (Advertisement in Merchants Record and Shop Window, Jan. 1914, p. 49)
Another advertisement in The Producer, vol. 7, (1922) p. xiv states "For cash centralisation use Gipe. Lowest in price. Best in quality. [There is a drawing of a Gipe No. 10 system.] One of several types. To purchase: £8.10.0 per station. To hire: £1.10.0 per sta. per ann. Hundreds of stations in use by co-operative societies... 30 years' experience in store service. Advice and estimates free."
Like Lamson's carriers, Gipe's were also used outside shops. "Where process or other cards have to be sent to different departments the 'Gipe' carrier, as used in retail shops for sending the bill and money to the cash desk, will save a lot of running about. The author has one 250 ft. long giving good service." Griffiths, W.R.J. The works engineer: a practical manual on building and plant maintenance for the works manager and works engineer. 3rd ed. (Pitman, 1951). A Gipe carrier was used in the Gloucester telegram office.
There is a good video on Facebook of a Gipe system being operated in Mellors Drapery shop at Gayndah, Queensland. Probably the last system to survive in a shop in England was at Grouts, Palmers Green. There are examples of Gipe systems in Trowbridge Museum and Devizes Museum.
| | |
| --- | --- |
| Gipe system at Trowbridge Museum, formerly at Charles Sloper's, Devizes | Close-up of the levers of a Gipe propulsion in Devizes Museum (also from Sloper's). |
| Propulsion in open position | Propulsion in closed position and car |