Air-Line system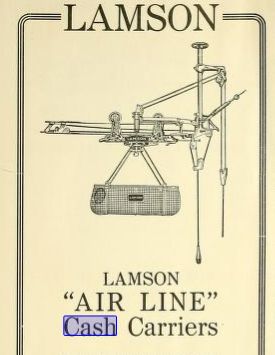 The Air-Line cash and package carrier was brought out by Emanuel Gipe in 1898 and Air-Line carriers became well known throughout America. In 1903 he disposed of his patents to Lamsons and agreed not to re-enter the carrier business himself in the United States for ten years. However, he relocated in Toronto and continued to work on new ideas for carriers there. When his ten years were up, he was able to set up the Gipe Store Service Company with headquarters in Chicago and also a company in England.
Rather than elastic (like the Rapid Wire system) the Air-Line system used a cord passing over multiple pulleys to propel the car. This allowed it to operate over greater distances up to 200 feet. Air Line was known particularly for package-carrier systems as well as cash-carrying, again implying more substantial construction. Lamsons took over the Air-Line company and the cars typically have "Air-Line" on one side and "Lamson" on the other.
It was advertised in the Dry Goods Reporter of 3 June, 1905, p. 58 as "sold by the Lamson Consolidated Store Co." with the address 161 Devonshire Street, Boston.
The Lamson Brochure "Bulletin C" of ca. 1912 states: "No unsightly turnbuckles are used in Air-Line installations. Wire tension [is] adjustable 'to a hair' with a small wrench and without climbing step-ladders. [The] Tubular Friction Brake arrests car on arrival without shock or noise. 'rebounds' are impossible... The propulsion pulleys are supported by a secondary wire in place of rod-stays, thus enabling installation on low-studded ceilings or under galleries that would be inaccessible to other systems. Wire breakages are unknown in the Air-Line as the noiseless and absolute Friction Stop completely encloses wires at stations and protects them from granulation or wear." These would all have been benefits over Rapid Wire systems.
The Air-Line system had supplanted the Rapid Wire system in the US by the first World War. The Lamson Wire Line Carriers brochure of 1917 shows exclusively Air-Line equipment. Although the design was advertised in Britain (along with uplifts for reaching upper floors) I have seen no evidence of it in use here or in Australia and the Rapid Wire system continued in popularity.
The simplest systems used no propulsions: the car was sent off by hand.
Basket carriers, meat carriers and "Kick Back" carriers were also available in the Air-Line design. The "glove [basket] carriers" were uniform for Nos. 10, 12 and 15 systems.
The Yellowstone Mercantile website refers to "an antique Lamson 'Air-Line' cash carrier system". It has photographs including the propulsions. This design is also featured in the videos from the Lemelson Center.
A sales station propulsion for No. 10 or 12 systems (level or grade lines). This has a 3 to 1 pulley advantage. No.10 was suitable for for level lines up to 200 feet and No. 12 for grade lines up to 150 feet.

A central desk station for No. 10 systems

A sales station for No. 15 systems. This was a lower-priced version with a 2 to 1 pulley advantage and suitable for lines up to 80 feet in length or grades up to 4 feet.

Curves were available for Air-Line systems, as for Rapid Wire systems. They were adjustable for any angle up to 100 degrees. It was claimed that they did not slow down passing cars and there was no loud or annoying clash. The curve could also be used as a bridge when required.

This curve was suitable for Nos. 10, 12 and 15 systems.

The Up-send carrier for serving the upper floor from a main-floor cash desk.(Advertisement in Merchants Record and Show Window, May 1914, p. 3)


Photograph © New Beginning Antiques, 2002

This fine photograph comes from New Beginning Antiques who had a car for sale in 2002. It is described as "a rare 1920s-1930s Cash Trolley made of brass and wood ... This amazing machine came from the Wursburg's Department Store in Grand Rapids, MI." The propulsion was not included in the sale.

It looks exactly like an illustration in a Lamson brochure of 190- so might be a bit earlier than suggested. The design is similar to a Rapid Wire car, but it has straight sides next to the wheels rather than the V-shaped notch of the Rapid Wire. It has a short wheelbase so it is probably a 'curve car' for negotiating curves.The name is on the chassis of the trolley, rather than the round part that the cup screws into.

Air-Line cars were finished in oxidised copper plate, lacquered. The same cars were used in Nos. 10, 12 and 15 systems.

A small detachable, quick-opening basket could be supplied in place of the cash cup to act as a "glove carrier".


Photograph © Trey Gwaltney

Part of the propulsion at the Antiques Emporium in Smithfield, Virginia, which was formerly the George W. Delk department store. (Now removed.) There are two wires and the car runs on the bottom one. The upper wire takes part of the strain, keeps the standards in alignment, and holds the propulsion in position (Lamson wire carriers). The propelling cord loops around the back of the car. Because there is no elastic, no diagonal strut is needed.

This appears to be a No. 15 carrier with a 2 to 1 pulley advantage.


Photograph © Trey Gwaltney

Another view of the Antiques Emporium system. Note the two horizontal struts above the upper wire.