Pneumatic Tube Systems - Terminals
There seem to be five main types of terminals (at least for Lamson) plus some oddities. I am not sure of the time spans of each and would welcome any further information.
1. Terminals using gravity in one direction
| | |
| --- | --- |
| The receiving tube is on the left and the sending tube in front. There appears to be no valve or door on the sending tube so presumably the carrier travelled by gravity. (Lamson advertisement, 1904) | Terminal at the former Arbery & Son shop, Wantage, Oxfordshire. This is a pedal-operated system with a single tube but the shape and decoration are similar to the drawing. The carrier was returned from the first-floor office by gravity into the open cradle. There is a lever on the side which presumably closes the outlet when the foot-pump is used to propel the carrier up to the first floor. |
| Inlet tubes in the cash office at MacCulloch and Wallace, London | Receiving tube on the ground floor of MacCulloch and Wallace |
| A modern version of this kind of outlet: Airmatic system at Weavers in Lawrence, Kansas | |
2. Terminals with open bend
| | |
| --- | --- |
| A down-discharge Lamson terminal with receiving basket from Browns of Workington, Cumbria when it was in the Cumberland Toy Museum in Cockermouth. The tube had to be widened on tight curves to allow the straight carrier to pass through - a "swollen bend". © Rod Moore, 2002 | A more decorative version (note the decoration on the inlet tube) with the outlet door almost horizontal. The basket appears identical. From Hibbards, Colorado Springs. |
| A Sturtevant terminal of similar principle but different shape. © Robin Adcroft | |
3. Ornate F-terminals
A very fine terminal from the Birk's jewelery store in Vancouver. This has the number YD-539 on it. The fact that it bears the name "Lamson Consolidated Store Co." suggests a date between 1888 and 1912.
Photograph courtesy of Terri Jensen

The other side of the terminal which has the number YD-540. Photograph courtesy of Terri Jensen

Another terminal of type YD-539 with the return door in place. © Robin Adcroft

A similar terminal but with the maker "Lamson Company" so post-1912.
4. Plain F-terminals
| | |
| --- | --- |
| Part of a later - and much plainer - design of down-discharge terminal offered for sale on eBay. The receiving tube would be attached vertically on the left and it was known as an F-terminal because it looked like a lower-case "f". | A terminal of the same design with the receiving pipe in place and basket for carriers. © Robin Adcroft |
| A rather similar Airmatic terminal at Weavers in Lawrence, Kansas. Courtesy of Mr Flannery. | |
5. Pneu-Mode terminal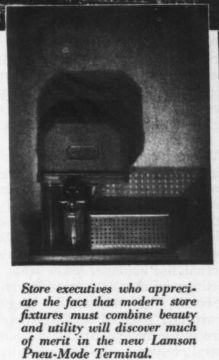 This is from a Lamsons' advertisement in The Bulletin (National Retail Dry Goods Association), Mar. 1933, p. 201
6. Pneu-Art terminals
7. Oddities
| | |
| --- | --- |
| A six-sided terminal housing like one at Hibbards. | A terminal from a private collection, like the one in the picture left and made of bakelite. |
Diagrams
| | |
| --- | --- |
| Diagram of an "up discharge" pneumatic-tube terminal from Westwood for pipes coming from above | Diagram of a "down-discharge" terminal from Westwood for pipes coming from below |