Shops

ALFRISTON. Alfriston Post Office. Not in original location. Lamson Rapid Wire system with two stations installed in 1980s. Photograph in Patricia Barry and Peter Longstaff-Tyrrell. Aspects of Alfriston. S.B.Publications, 2006, p.26.
ARUNDEL. Harringtons, Queen Street . Cash carrier in 1950s. Lorna
ARUNDEL. Watts and Nephew, 49 High Street. "She recalled the fascinating system of cash payment to a central desk with overhead wires to which containers were attached that carried money to the pay-desk by a kind of catapult, and a few minutes later would come whizzing back with the change and a receipted bill." Rupert Brooks and Mark Phillips. Shops and trades of old Arundel. (Phillimore, 2014), p. 75
BEXHILL. Longleys (dept. store). Wire system probably removed in 1960s. Shop closed mid-1980s. Jill Kinloch
BOGNOR REGIS, Bobbys/George W. Staley. 1-2 London Road Buildings. "Overhead canisters which were used to propel your money to the cashier." Shop opened in 1888, became F.J.Bobby in 1959 and was modernised in late 1970s. Bognor Local History website. One line had a curve. Terry Shearing
"Many people have told me that one of their specific memories of this store was the overhead canisters which were used to propel your money to the cashier, which would then be returned, overhead, with your receipt and change." Bognor Regis Observer website
BOGNOR REGIS. Co-op, Argyle Road. Photograph of 1938 showing Rapid Wire propulsion in Bognor Regis Observer 9 Mar. 2006, p.20. System was there in 1950s. Terry Shearing
• "I remember very well going almost next door to the Co-op grocers (next to the Masonic Hall). They had an overhead cash system. When you paid your money, it was put into a capsule which shot across the room to a counting house." Sylvia Endacott and Shirley Lewis. A 1950s holiday in Bognor Regis (History Press, 2014)
BOGNOR REGIS. Harry Mann, 32-34 London Road. "Reynolds & Co. have received instructions from Mr. Harry Mann, who is retiring from business to sell by auction .. catapult cash railway." Bognor Regis Observer, 19 Sep. 1934, p. 8
BRIGHTON. Bellmans (dept. store) , 127-129 London Road, now Somerfields supermarket. "I recall how the money for purchases at Belmans [sic] was put into wire baskets and catapulted on an overhead wire to a central cash desk. Within a minute, the change and receipt came wizzing back." Roy Grant posting 27/10/08 to My Brighton and Hove. "In 1959 opened a giant supermarket in London Road" New Encyclopaedia of Brighton. Around 1970 became Gateways supermarket.
BRIGHTON. Co-op, Fiveways. Wire system in 1950s. Richard Scullion and Doreen Page
BRIGHTON. Co-op, Lewes Road. "I was also fascinated by the aerial money containers at the Co-op in Lewes Road." David Brigden posting to My Brighton & Hove, 20/10/2007
BRIGHTON. Co-op, London Road. "In 1931, Bethill & Swannell's grandiose department store .. replaced existing premises at numbers 94-101, bringing retail splendour to London Road. Among its remembered fascinations was the system of pneumatic payment tubes for whizzing money to the cashier's office. Gradually expanded, it eventually failed, closing in 2007." Anthony Beeson. North Brighton: London Road to Coldean." (Stroud: Amberley Publishing, 2014), p. 28
• The ground and upper floors had a pneumatic tube system which linked to the top floor where there were management offices and a cash office with several cashiers. The basement was served by a wire system with a single cashier there: perhaps there was insufficient pressure to reach the cash office by the tube system. Bob Eager (whose mother was a cashier 1942-9)
• "The sales assistant would place the cash container into a hole in the wall, then a few minutes later it would re-appear in the same hole with the change and receipt." John Goddard posting to Brighton in the 1950s 20/4/09
BRIGHTON. Co-op (grocery), Patcham. Wire system in 1940s/50s. Customers put the money in the carrier themselves so that the staff handling food didn't have to. Cashier was elevated in a glass box. John Trendall
BRIGHTON, Co-op, St James' Street. Wire system in 1950s. Rodney Burrows
BRIGHTON. Hanningtons. "The cashier system .. dated from the twenties. There was only one till in the store,and one cashier, who was installed in a booth on the ground floor with a shiny brass cash register... Beside the cashier's booth was a vacuum tube for use when a certain amount of money had accumulated in the booth, or when more change was needed. A brass container was sucked away to the basement where accountancy staff dealt with the request." Bond, Sidonie. Hanningtons: a brief history 1808-2001. Seaford: SB Publications, 2002, pp.47-48. Shop was sold in 2001 and split into separate retail units.
BRIGHTON. Horne Brothers (gentleman's outfitters), West Street, opposite Clock Tower. "How I loved watching any payments made at Horn [sic] Brothers being put into cylinders in their vacuum operated cash machines, my money being sucked away and within minutes my receipt returning with a loud plonk." Roy Grant in posting 13/1/08 to My Brighton and Hove.
BRIGHTON. Hunters, Preston Circus. Pneumatic tube system. Carol Catterall
BRIGHTON. Lea & Co., Western Road. Wire system. Mr Aubrey and Dave Blackford posting to My Brighton and Hove.
BRIGHTON. Bernard Luper ("Tailor of Taste") 45 Trafalgar Street. Wire system in 1970s. Nick Hall
BRIGHTON. Plumbers Roddis (drapers), Western Road. Wire system. Mr Aubrey
BRIGHTON. Roslings, 27-31 London Road. Sold in August 1960 after 55 years there and later became Woolworths. Wire system. David Shelton in posting 9/6/09 to My Brighton and Hove. Photograph of exterior
BRIGHTON. Smith and Brown Co-operative Clothing Stores. Corner of Trafalgar Street and Sydney Street. Wire system. Founded ca. 1904. David Shelton and Richard Evans in postings to My Brighton and Hove.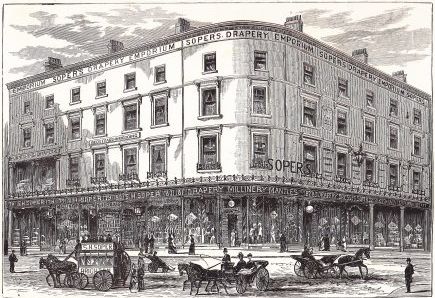 BRIGHTON. Soper's Drapery Emporium, 77-83 North Street. "Soper's Emporium in Brighton has the same [cash ball] system." Bridgend Chronicle, 1 Apr. 1887, p. 2
• In 1889 Henry Soper patented an improvement in the design of cash balls to prevent them opening in transit. Presumably this derived from a system in his father's (Alderman S.H. Soper) shop.
• "They didn't have money tills, but put the money in a small wooden cup, that was secured by overhead wires. A lever was pulled which sent the money to the cashier." Bob Wells in posting 11/6/07 to My Brighton and Hove. Merged with Leesons and Vokins before closing in 1955.
BRIGHTON. Staffords, Western Road. Wire system. Elizabeth Garrett
BRIGHTON. W.H.Vokins, 32-33 North Street. "Little boxes running on wires." Roberts, Margery C. A time remembered. Brighton: Brighton & Hove Museums, 1998, p. 9. Closed in 1977
BRIGHTON. Wades (dept store), Western Road. Tube system in 1950s. Gill Crowter and Charles Painter
BRIGHTON. Dorothy and May Wood, 70-72 London Road. "In 1918, sisters Dorothy and May Wood took over a small drapers shop... This shop operated until 1982 when it finally closed. However, it is a shop that evokes many memories, not least .. the overhead change machines." Sussex World website.
CHICHESTER. Co-op, Kingsham Road. Cash carrier. Tina Dumper in posting to Facebook
CHICHESTER. Geerings (drapers), North Street. " I am certain that it was a ball system, where the ball unscrewed into two halves, and money was put inside. I can remember that when the system was removed ( probably around 1953-5) my mother gave me a couple of wooden balls from it to play with." Mike Jee
EASTBOURNE. Bobbys (now Debenhams), Terminus Road. "Assistant cashier, knowledge of Lamson tubes an advantage." Eastbourne Herald, 21 Sep. 1946, p. 10
• "2 young lady cashiers of similar age. 1 each for cash transactions in the Lamson tube room and customers' accounts desk. - Apply Bobby & Co. Ltd., Eastbourne." Advertisement from July 1954. Photo of exterior.
• "This system of tubes was in every department" Pat Larkin in posting to Royal Windsor Forum, 18/6/10
EASTBOURNE. Co-op, Albert Parade, Old Town. Rapid Wire system in 1950s. Albert Parade website
EASTBOURNE. Co-op, Seaside, next to Leaf Hall. Rapid Wire system in use in 1950s and 60s. "Very serious cashier." Judith Heywood
EASTBOURNE. Plummers, Terminus Road. "During the past year we have had considerable trouble with our system of Cash Tubes, particularly in the Haberdashery Department. We have pleasure in informing our Customers that we have recently installed an entirely new and the most up-to-date system made." Eastbourne Chronicle, 18 Jun. 1927, p. 8
EAST GRINSTEAD. Brighton Co-op (grocery store), 115 London Road. Wire system in photo of ca. 1955. Shop opened in 1931 and lasted until 1990s. David Gould. East Grinstead through a lens (Stroud: Amberley, 2010) p.100
EAST GRINSTEAD. Wilson. Cash carrier. Dorothy Budgen in posting to Facebook
EAST GRINSTEAD. Young & Sons (drapers), 43-49 High Street. Photograph of 1932 showing three or four Rapid Wire propulsions. Shop closed 30 August, 1974. David Gould. East Grinstead through a lens (Stroud: Amberley, 2010) p.88
HASTINGS. Brooker and Jepson (stationery and fancy warehouse), 12 Robertson Street. "Passengers through Robertson-street on the first two or three evenings of the week might well have wondered at the cause of the excitement which drew together quite a large number of persons opposite No. 12, and kept them gazing in wonder at the working of a most ingenious addition to the conveniences of Messrs. Brooker and Jepson's establishment. The object of admiration was the latest novelty in Hastings then in full operation within the shop, viz., the Lamson Cash Railway... Each counter, and every assistant, is in direct touch with the cashier at her desk at the top end of the shop... The track consists of slender ash lines carried over the entire length of the counters... There are four stations from which balls can be despatched; .. each is supplied with four balls, numbered and carefully sized... The cashier.. returns it, receipted with the proper change, by the lower or return line." Hastings and St Leonards Observer, 8 May 1886, p.5
HASTINGS. A butcher's shop, few doors along from the old Marks & Spencers. Cash carrier in mid-1960s. "Cashier was a buxom blonde". Staff at Adams, Rye
HASTINGS. Plummer Roddis, 3 Robertson Street. "Lady cashier required; cash railway... Apply Mr. Ketteringham, Plummer Roddis, Ltd. Bexhill-on-Sea Observer, 10 Aug. 1918, p.6
HASTINGS. William White (drapers), White Rock. See court cases, 1897.
HASTINGS. Wilshin's, Queen's Road. "The new premises for Messrs. Wilshin & Son in the Queen's-road .. are worthy of note... A complete system of Lampson[sic] Cash Tubes is installed to serve all floors." Sussex Agricultural Express, 20 June 1930, p. 7
• "Cashier required immediately for drapery trade. Lamson system in use." Hastings and St Leonards Observer, 15 Nov. 1958, p. 13
HAYWARDS HEATH. Co-op. Wire system. Lillian Rogers. Haywards Heath: Yesterday remembered. (The author, 1999)
HORSHAM. Chart & Lawrence, West Street. Cash carrier. Sylvia Standing. Reminiscences about West Street shops in the 1940s and 1950s - at Horsham Museum. Also Facebook postings: Margaret Baldwin 28/2/11 and Kevin McGrath 6/3/11
HORSHAM. Evershed & Cripps, 1 South Street. Now Santanders. Wire system. Horsham Museum
HORSHAM. Hunt Bros. (haberdashers), West Street. Cash carrier in 1950s. Ronnie Godfrey
HOVE. Brighton Equitable Co-operative Society, Blatchington Road. "The Co-op in Blatchington Road was a fascinating place for children because of the overhead wires running from the various counters to the cash desk. When you purchased an item, your money and bill were enclosed in a small brass canister and off it whizzed to the cash desk. You had to wait patiently until you saw it zooming back again with your cash inside. It was the latest technology in customer care at the time. " Judy Middleton. Portslade and Hove memories. (Stroud: Sutton, 2004) p. 141. Photograph of exterior on p. 143. Shop opened in 1920.
HOVE. Co-op, Portland Road. "The co op in Portland Road Hove Sussex had these [cash carrier] many years ago." Kathryn Bunker in posting to Facebook
HOVE. Harveys (clothes and haberdashers), Portland Road near Westbourne Street. Cash carrier in 1950s. Barbara Allen
HOVE. Stuart Norris, George Street. "I recall the Stuart Norris department store had a cash system of vacuum tubes that fascinated me as a small boy." My Brighton and Hove website
HOVE. Palmeira Stores. Wire system. Elizabeth Garrett
HOVE. Shaws, George Street. Pneumatic tube system. Elizabeth Garrett
LANCING. Co-op. "The assistant put the money, the ration book and a handwritten list of purchases into a tube-and-canister arrangement on the back wall of each counter and pulled a lever that sent the canister whizzing up the chute towards the ceiling. There it dropped into a small cable-car system of crisscrossing wires that all led to the cashier's cage, high up at the back of the shop. The cashier did her bit then we watched the change zinging back on the overhead wires. That was the highlight of the whole shopping trip for my sister and me, and we never tired of it." Madeleine Price on Bad Mothers Club website. (Possibly confusing tube and wire systems?)
LEWES. Co-op, 3-4 West Street. The Co-op had moved there by 1878 and the premises were largely rebuilt about 1905. It closed in the 1980s and the building is now Wallis and Wallis, Auctioneers. The first two quotations refer to pulling a lever (rather than a cord) suggesting that it was a Gipe wire system.
•"You pulled the lever down, you put a cup in, put the cash in with its little docket and you pulled the lever. There were about five railways which went along to the cash desk."Lewes remembers.
• "I have memories of shopping with her at the newer purpose-built Co-op store, where the main attraction for me was the overhead railway from counter to cash desk. By depressing a lever at the counter end, bill and money in a wooden holder were released and whisked by a spring-loaded mechanism to the counting-house, the cashier returning the receipted bill and change in the same manner." W.F. WELLS. When skies were always blue.(Lewes: Pomeganate Press, 2004) p.55
• Downstairs was grocery on one side and provisions on the other: upstairs was drapery. Leonard Woolf [husband of Virginia] came every Wednesday by car from Rodmell. Geoffrey Symonds describing 1940s in National Sound Archive
• "The unique feature of the shop was the complex system of overhead wires terminating at a corner cubicle, where the lady cashier sat in state. When a transaction was completed the counter assistant would unscrew a container from the wire, place in it the money paid with a note of the customer's share number, replace the container and send it hissing on its way to the cashier. If change was required it came shooting back the same way." Lawrence Garner. A long walk to anywhere Part 4
• Gone by 1966. Wendy Stonestreet
LEWES. Percy Haines (drapers)/T.Fogden (men's outfitters), High Street. Haines had a wire system before WW2. Shop was on two levels. Sold in 1954 and one half became Fogdens. Fogdens had one pneumatic tube line to take cash upstairs to office. Tim Fogden
LEWES. Charles Morrish & Son, Lewes Drapery Emporium, 186 High Street, later Ransoms and now ASK Pizza. Wire system. Lewes remembers. However I cannot see any sign of it on Edward Reeves' photograph of ca. 1942.
LEWES. Roberts (grocers), opp. Town Hall, now Shoe Gallery. Wire system. There were two counters, dry goods and meat/cheese, and a cash office at the back. Probably until 1950s. Charles Painter
LEWES. Walker & Co.(grocers), 223 High Street, now divided into Clarks shoes and Wilson, Wilson & Hancock opticians. Wire system. Lewes remembers
LINDFIELD. Masters. "There was a raised office where the cashier sat overlooking the store where you could pay bills – also the end of the line for the amazing overhead pulley system used by the staff. Cash and orders were loaded into a small canister which travelled on an overhead wire to the cashier when the sender pulled a handle. Change was duly zipped back to the counter!" Lindfield Life website
LITTLEHAMPTON. Murray Manns (drapery). Rapid Wire system in 1970s. "Polished brass display racks, an old-fashioned gas lamp .., an impressive criss-cross of rapid wires, and a splendid oak cash desk, raised like a pulpit, as its nerve centre." Daily Telegraph, 30 Dec. 1971.
LITTLEHAMPTON. Ockendons. Wire system. Ann Winser
NEWHAVEN. Co-op, corner of Bridge Street and Chapel Street (where Working Men's Club is now). Lamson Rapid Wire system with six propulsions. Two are now at Seaford Museum and two at Newhaven Museum. Charles Painter
• "My father was manager of this department store from about 1950 through until about 1970. When I first visited the store it was a two storey building with Haberdashery, Men's Outfitting and Shoe departments on the ground floor together with the cash office. The first floor was for Furniture and Flooring. The building was very old fashioned and the upper part had a huge amount of wood in its construction... The cash office was served by an amazing arrangement of wires that led all around the building on which money containers whizzed overhead, it was a bit like having a model tramway system above you." Derek Longley in posting to Our Newhaven 17/6/11
NEWHAVEN. Sargents, High Street, next to Woolworths. Marion Theresia on Facebook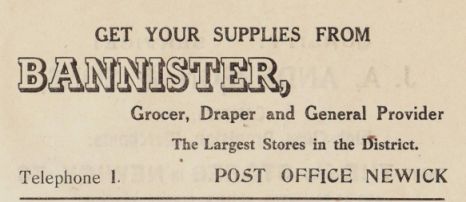 NEWICK. Bannisters. "An earlier payment method included an overhead wire arrangement which carried little containers for the money, to and from the cash kiosk." Newick Village Society website
SHOREHAM. Co-op. "He recalls the central cash office and the Lamson overhead 'cash railway'. [1960s?] " South Downs Light Railway website
SHOREHAM. International Stores. "The International Stores where they still had the 'pull string' little carrier on overhead wires to take the money to the cash desk in the corner." Shoreham-by-Sea History Portal
WORTHING. Bernard Baker, Chapel Road. "Firemen were called to Messrs. Bernard Baker's Chapel-road shop on Thursday when an electric motor caught fire in the basement. Smoke from the burning motor perculated through 'cash' tubes to the cashiers' office on the top floor." Worthing Gazette, 3 Oct. 1951, p. 2
WORTHING. Cameron and Co., Chapel Road. "Operations are further expedited by an instalment [sic] of the cash railway." Worthing Gazette, 12 May 1915, p. 5
WORTHING. Co-op, Montague Street. "The Co-operative Movement's growth. Re-opening of the Worthing branch... All the departments are connected with a cash carrier system to a central cash desk situate in the grocery shop." Littlehampton Gazette, 6 Sep. 1929, p.6
WORTHING. Kinch and Lack (outfitters), South Street. Wire system in 1960s. In 1996 the shop became Methvens booksellers. Gavin Richardson
WORTHING. Potter Baileys (grocers), lower end of High Street. "Potter Bailey's, on the corner of Anne Street, the next street down, was a large grocery store, just one of a thriving chain with branches all over the district. There was a network of overhead wires in the main shop, on which messages and money whizzed about in every direction on brass weights, to and from the various counters and the central cashier, who sat perched up at the main junction in an elevated cash-desk like a pulpit." Dave Disss. Dizzy. (Lewes: Book Guild, 2005) p. 52
Museums
BATTLE. Yesterday's World, High Street. Had a Rapid Wire system in grocer's shop display. The museum is now closed and the system was bought by a private collector.

NEWHAVEN. Museum,. Paradise Park, Avis Road. Rapid Wire system with propulsions from Newhaven Co-op (Peter Mason). The museum also has a section of pneumatic tube from HMS Forward, a site which monitored shipping in the Channel in WW2.

SEAFORD. Museum. Rapid Wire system with propulsions from Newhaven Co-op (see above).

indicates systems which are still there (as far as I know) though they may not be working.