Shops
Alders (drapers) , Rushey Green, Catford. "It was a dark spookey shop with a man sitting high in an office at the back where all the sales money and change was delivered to and from by a wire aerial delivery system. I can still see all those tubes flying by overhead. Alders was in Rushey Green on the corner of Wildfell Road. 'Graham' in posting to Downham Discussion, 30/7/06
• "Allders was near Caters. That shop had the overhead Monday [sic] change contraption." Sue Cartmell on Facebook
• Photograph showing Rapid Wire system on Pinterest
Elizabeth Arden (beauty products), 76 Grosvenor Street. "Cashier for West End busy office, accustomed handling money and cheques, knowledge of Lamson tubes an advantage, not essential." Middlesex Independent, 19 Nov. 1954, p. 9
Arding & Hobbs (dept. store), Clapham Junction, SW11. (dept. store), Clapham Junction, SW11. "There is a big power installation for lifts and cash tubes betwen departments." Evening News (London), 11 Oct. 1910, p. 3
• "Illustrated London [n.d., p.240] noted 'a complete system of the American cash railway'.... The Wandsworth Borough News enjoyed the Lamson pneumatic tube system for conveying cash and messages, putting an end to 'balls rolling on inclined planes, with the large and ungainly framework that is necessary'". UCL Bartlett School website
• There were at least eight Pneu-Art stations still being used when I visited in February 2003 for internal communication and till clearance but disppeared during modernisation in 2004. The shop was rebuilt in 1910 following a fire and originally had fifty stations. The Pneu-Art stations must have been replacements, as this design was introduced in the 1930s.
Army & Navy Stores, Victoria Street. "The vacuum tube system, vast and complex in my memory, was a great thrill." Colin Freeman (1950s/60s)
Arnott. "Messrs. Arnott & Co. were the first in England to avail themselves of the new patent - called generally 'Lamson's Cash Railway' - by erecting it in their London house. " Kilkenny Moderator, 5 Aug. 1885, p. 4. (See the note at top of page.)
Arthurs Stores, corner of Westbourne Grove and Chepstow Road. "Cash railway... speeding along wires above your head". Geoffrey Green: Early memories of Bayswater
Barber's, North End Road, Fulham. Now Sports Direct. "Barber's new building and re-organised store will be opened .. at 3 p.m. to-morrow... 'Rebesi' power operated pneumatic cash tubes have been installed to enable us to give our customers the best possible service always. Contractors:- The British Cash & Parcel Conveyors, Ltd., store service experts, 180 Goswell Road, E.C.1." Fulham Chronicle, 7 Oct. 1932, p. 3
• "All cash except that taken in one or two small departments is sent to a central receiving room by means of the pneumatic tube system, The time taken, even at the busiest periods, is rarely more than one minute from the time of despatch. One of the main features is that one girl can operate the whole system at very quiet times, when a moving belt takes all tubes to the despatching station. As the store gets busier cashiers are taken off other work until, on busy Saturday afternoons, seven or eight cashiers are hard at work... The store.. has its own emergency generating plant, which is designed to cope with all the essential services, including the power for the cash tube system." Fulham Chronicle, 9 Apr. 1948, p. 14
• "Janet Street-Porter recalled her young self wide-eyed at its Lamson pneumatic tube system whizzing payments around the store'like something out of a Dickens novel'". Londonist website
John Barkers, Kensington High Street. Gipe carrier system. Advertisement in The Cornubian, 14 Jan. 1909, p.4
• "Many progressive merchants in Canada have already adopted 'Gipe' carriers, and such well-known houses in London, Eng. as .. John Barker & Co. " Dry Goods Review, May 1909, p. 38
• "Barkers of Kensington used to have overhead wires on which was suspended a carrier for cash. The cashier sat high up in a pulpit affair, in the centre of the shop. The carriers whizzed back and forth at a rate of knots." 'Songbird' in posting to RootsWeb ESSEX-UK list, 26/9/04
John Barnes, 191-217 Finchley Road. "Opening day: Thursday, March 29th. London's latest emporium... Lamson pneumatic tube system. There are only three other department houses in London that have adopted this system - Robinson and Cleaver, Regent-street; Bon Marché, Limited, Brixton,; and T.R. Roberts, Limited, Stratford... A lady can have her change in fifteen seconds, for the cylinders travel at a rate of 2,000 feet a minute... The chief obstacle to its general adoption in business houses is that the installation is somewhat expensive... The cost of driving the motor - which may be either electric or steam - is comparatively a very small item. Messrs Barnes and Co., Limited, have an electric motor in the basement. .. There are thirty-two 'stations' through the house." Kilburn Times, 23 Mar. 1900, p. 5
Barratts (shoes), Oxford Street. "When I worked in Barratt's Shoe shop in Oxford Street they still used one [pneumatic tube system] to transfer cash from the first floor (Ladies Shoes) to the cashier on the ground floor." The Domestic Townscape website
Bartons (dept. store), Wood Green. "As a kid I was fascinated by their overhead money system. It was a track that ran around the store and when you paid the cashier they put it into a tube and attached it to the rail & then pulled a cord to send it winging off to a central cash office." 'Roy' in posting to GEN-TRIVIA-ENG-L list, 6/7/99. (Roy was born in 1945.)
Bearmans (dept. store), Leytonstone. Wire system with central high-up kiosk for the cashier in 1930s-40s. Later became Co-op. (B.Coster). Now demolished. N.Pitt
Bentalls, Broadway, Ealing. "Bentalls (Ealing) Ltd. .. have vacancies in their rapidly extending store .. Cashier, preferably with experience of Lamson Tubes." (Harrow) Observer, 6 Oct. 1955, p. 23
•"Office vacancies... Lamson cash office. Part-time cashier." Hammersmith & Shepherds Bush Gazette, 11 Sep. 1959, p. 13
Binyshs, Hoxton Street, Hoxton. "Money and bills whizzed around on overhead wires, pinging bells... There were lots of counters served by grandmotherly women, and when my mother gave money to one of them the woman would make out a bill, unscrew a metal cylinder the size of a hand grenade, put the money and the bill into the cylinder, hook it on to a wire over her head, pull a cord, there would be a loud ping! from an electric bell, and the cylinder would rocket away overhead to the other side of the shop, to a woman sitting at a cash register... I could have watched it all day... It was the biggest shop in Hoxton Street, and always full of people." Bryan Magee. Clouds of glory: a childhood in Hoxton (London: Cape, 2003) p.66
Blands (haberdashers), Wembley High Road. Lamson pneumatic system in 1950s and 60s. Posting to uk.rec.subterranea newsgroup, 8 Mar. 2000 and Nigel Callaghan
Boardmans (dept. store), 58-68 Broadway, Stratford. "We are now running a novel Cash Railway, by which all money taken from customers will be sent to cashier, and change returned by rail." Leytonstone Express, 28 May 1887, p. 5
• Wire system. Now demolished. N.Pitt
Bon Marché, 442-444 Brixton Road, SW9.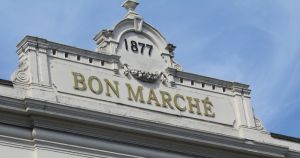 There is an illustrated history of the store at the Bon Marche Centre website.
"That the proprietors are alive to the benefits of invention, is shown by their adoption of the 'cash railway'... From the most remote corner of the ground floor .. the money of the purchaser, with the bill of goods bought, is sent (along an elevated line) enclosed in a hollow ball, and in a few seconds the ball, enclosing a receipted bill, and, when necessary, change, comes back along a lower line to the place where the assistant and customer stand." South London Press, 8 Jan. 1887, p. 4
• Had adopted the Lamson pneumatic tube system by 1900. Kilburn Times, 23 Mar. 1900, p. 5
• Interview with Ronald Stedman who worked in the soft furnishing department in 1930s. National Sound Archive. "An overhead system which went upstairs to the counting house... It was a security thing."

Bon Marché, Kilburn, 36-40 High Road. See Court Cases. Photograph of exterior on Flickr.
• "The patent cash railway is now in use conveying money direct from the customer to the cashier." Willesden Chronicle, 25 Dec. 1885, p. 1
• "Clerks - Wanted, young lady, as cashier. One accustomed to the cash railway system preferred. Apply to W. Roper and Co., the Kilburn Bon Marché." Daily Telegraph & Courier, 11 Jul. 1899, p. 12

Bonanza Provision Market, 2 Electric Avenue and 441-447 Brixton Road. "Another 'note of admiration' became necessary when Mr. Saunders pointed out the merits of the 'Bonanza' Cash Railway. This is supplied by the Lamson Store Service Company... On the'Bonanza' Cash Railway the receptacles for money run on single wires." South London Press, 4 July 1891, p. 2. Picture of exterior
Bourne & Hollingsworth, 116 Oxford Street, W.1. "We require a mature lady .. in our Lamson cash desk." Kensington Post, 16 Apr. 1971, p. 33
Bradley and Perrins, Harrow Road. Cash carrier. "Big haberdashery shop, got our school uniforms from them, oh so long ago now." Valerie Edwards in posting to Facebook
Bravingtons (jewellers), Ludgate Hill. Wire system with three stations. J.Liffen
F.W.Bugg (grocer), 114 Talbot Road, Westbourne Grove, W11. "Cash and change would travel between the grocer, the cashier and the customer via an overhead machine operated by a pulley system." Photograph of wire system on Museum of London: Postcodes project
Burgess, Bruce Grove. Built 1923. "Burgesses at Bruce Grove used the suction/vacuum system of cash collecting." Stephen Bin posting to Haringay Online, 14/9/10
Chiesmans, 37-59 High Street, Lewisham. Wire system. "Some lines turn up vertically and went up one floor and stopped just above floor level. It disappeared in the 1950's". Acquired by House of Fraser in 1976. Shop now closed. Mike Pain. Photo of exterior.
A china shop, Seven Sisters. Rapid Wire system in about 1968. "One of the wires passed above a great conical display of stacked china. There was a gap where the carrier could pass through." Removed and some parts installed in Bradford Museum.
Walter Cobb. 14/30 Kirkdale, Sydenham, SE26. Pneumatic tube system extended after WW2. For details see Lamson Pneumatic Tubes page. Documents in Lewisham Archives, A81/68/2/26.
Co-op, Brixton. "In those days the Co-op used little metal cups to transfer the money to the cash desk. Anyway, these little metal cups that we had to put the money in ran on wires across the ceiling of the shop. You would put the customer's money into the cup, pull a cord, and send the cup with the money inside running along the wires to the cash desk... When it was my turn on the cash desk, I used to send love notes in the metal cups to the 'Bacon Bonce', the boy on the bacon counter." The Time Capsule website
Co-op, corner of Broadway and Stag Lane, Burnt Oak, Middx. 5 or 6 storey building. Had a pneumatic tube system. Building still exists but no longer a Co-op. Christopher Sullivan
Co-op, Crofton Park, Lewisham. "I remember the Co-Op in Crofton Park having one of those [cash carriers]!" Sonaa Digby on Facebook
Co-op, Downham. "The Co-Op at Bromley Road, Downham had the same overhead contraption at one time." Bill Baker on Facebook
Co-op, East Ham. "The idea of sending money to the Cash Office through a Vacuum Tube was also used at the Co-operative Department Store on the corner of the High Street and St. John's Road." DougT in posting to Newham Story forum, 10/11/11
Co-op (South Suburban Co-op Society), Forest Hill, where Post Office used to be. "I just loved the overhead wires carrying the money, or the change and receipt from the central cashier: the little pots the size of a jam jar would go whizzing across the the store from a strong spring, on a taut steel wire." Derbyhill in posting to SE23.com, 17/3/15
Co-op, Lewisham. "My school uniform was bought there and when we went in and Mum had to pay for it the money would be whizzed across the store in a little pot on a wire and we would have to wait for the change." Jackie Walder in comment on Francis Frith website 29/7/11
Co-op, Streatham Vale (South Suburban Cooperative Society). Wire system in early 1950s. Robert Jackson
Co-op, Tooting. "My mum worked in the co op Tooting and they had one." Susan Bryant in posting to Facebook.
Co-op, Hoe Street, Walthamstow. "The Co op in Hoe street when then money used to zip through the air tubes." Walthamstow History website
Co-op, High Street, Wood Green. "Further still the Co-op. This was a strange building in two parts joined by a long ramp. They still had the central cashier's desk set up high with overhead wires connecting it to each sales desk. The assistants would write out your purchases on a form which would be put into a cylindrical canister with your payment. This was put into the overhead system, a lever pulled and the canister sped quickly to the stern-faced cashier. A few minutes later the canister would be back with your receipt and any change." Harringay Online website: Shopping in Wood Green 1950s
Co-op, Powis Street, Woolwich. "We also visited the Co-op department store. The money for purchases was placed in little tubes and sent whizzing along overhead wires to a central cash desk. When the tube returned it contained your change, together with your dividend in the form of embossed tin discs." WW2 People's War Website
Co-op, High Street, Wood Green. Wire system up to 1970. Letter from J.E.Hackford in Hertfordshire Countryside, vol. 29 (No. 187), Nov. 1974, p.47
Crisp, Seven Sisters Road. "At North London .. Emma Coombes .. was charged with stealing a number of articles.. the property of Messrs. Crisp and Co., drapers, Seven Sisters-road... While waiting for the return of the change by the cash railway, witness saw her .. take three pairs of gloves." Evening News (Portsmouth), 4 Jan. 1893, p.3. The shop was sold in 1910.
Cuffs, Woolwich. "Anyone remember those tubes in Cuffs that carried little pots with cash up to the cashiers office?" Bobmunro in posting to Charltonlife Forum, Jan. 2017
Currys, Putney. "As a child whilst moving the sawdust on the floor around with my feet I watched these machines whisk the money up to the cashiers who sent down the change." Linda Long in posting to Facebook
Daniels (drapers), Balham. Cash carrier. Frances Muncey
W.J. Daniel and Co., 102 Uxbridge Road, Ealing. "A pound note was given witness, and she went towards the other end of the counter to use the cash railway." West Middlesex Gazette, 20 Feb. 1932, p. 11
B. Davies and Co. (fancy drapers and milliners), 426-430 Holloway Road. "The 'cash railway' system was adopted at Messrs. B. Davies & Co.'s establishment some years ago, and indeed it was the first house in North London to take advantage of this labour saving apparatus." Holloway Press, 19 Jan. 1891, p. 3
Philip Davies, East Sheen, SW14. Rapid Wire system until about 1970. Barbara Hathaway
Dawsons (dept. store), City Road. "Probably the thing I remember most about Dawson's was the procedure for paying. Having given the assistant your money it was put into a metal tube and hooked into a contraption above the assistant's head. The assistant then pulled on a string or lever, I cannot recall which, and the tube was propelled along a metal line to a mystery department where the tube was removed and its contents checked. Once the sale was recorded, the tube was filled with the change and a receipt and shot back to the assistant. I always found this process fascinating and imagined a little world of away from the rest of the store where people spent their days emptying and filling these tubes." Dawsons ceased trading in 1980. East End Memories website with photograph of exterior.
A department store, Tooting Broadway. Cash carrier. "I wanted to work in the department store .. when I grew up just so I could be the cashier in the little room." "Mornev" in posting to Daily Mail chat, 18 Jul. 2005
Derry & Toms, High Street, Kensington. "My mother in law worked in Derry & Toms in High Street, Kensington and was the cashier who sat in a raised glass cube at the end of the shop floor. She received the capsules that were sent on the overhead wires and returned them to the sales assistant with the change and receipt. This would have been in the 60s." Alexandra Guilfoyle in posting to Facebook
Draper Bros.(drapers, boots and shoes), 113 High Street, Lewisham. "I can remember Draper's haberdashery shop, the Draper brothers. When you paid your bill they'd put them in a container with overhead wires, pull the handle, and it would shoot across to the cashier." Library of Experience website
A draper's shop, Chiswick High Road. Wire system. See Thomas in references. Could be Goodbans?
A draper's, 592-598 Lea Bridge Road, Leyton (opp. Baker's Arms). "J.A. and W. Tharp will sell by auction .. fittings and fixtures of a draper, including .. 'Samson's' [sic] patent rapid cash railway." East London Observer, 16 Aug. 1913, p. 4
Drapers and habderdashers, Uxbridge Road/Lime Grove, "Across the road on the corner of Lime Grove was a 'drapers and haberdashery' where the cash was put in a tube and sent flying along overhead wires to a central cashier – and the change and a receipt came back the same way." White City Estate - memories
Dudley's, Kingsland Road, Dalston. "After every purchase the assistant would put the bill with the customer's money into a cylindrical canister hanging on a wire just above her head and pull a lever which would shoot it right across the store to the cashier's office, from where the change would be sent back in the same way." Eileen Perrin in the Dalston Movement website.
• "They used an overhead wire-and-pulley arrangement .. sometimes called a .. Rapid Wire system, to take payment and send back change and the receipt." Jacky Hyams. Hoop skirts and pony tails. (London: John Blake, 2016)
Dunhams, Wanstead. "A cash pulley system... Recently closed [2003]." Part at least acquired by Redbridge Museum and displayed in "Behind the Scenes" exhibition January 2004. Redbridge website
Edmunds (?), Green Lanes. "I recall being taken to Edmunds(?) store and was captivated by the overhead wiring system. A customer would buy an item, the server would put the payment inside a container, pull a handle and send the cash up and over presumably to the head cashier. Frances Frith website [Could this actually be Grouts?]
Elys (dept. store), Wimbledon. Wire system ca. 1950/55. David Jeffreys
B.B.Evans (dept. store) 142-154 Kilburn High Road. "Opening of new extensions... Cash tube system and new offices have been installed." Hampstead News, 10 Oct. 1935, p. 3
• "Continued to use a vacuum system of cartridges and tubes for payments in the mid-1960s." Susan Cohen. 1960s Britain (Oxford:Shire, 2014) p.38. Photo of exterior
Clifford Evans, corner of High Street and Market Place, Acton. Wire system. Eventually taken over by Edmonds (drapers) and the system fell into disuse. "The lady would put mum's money into a tube which rotated into a trolley with two wheels, then she would pull on a wooden handle hanging on a green cord. There would be a sort of recoil click, and the little trolley would shoot all the way round the store to the central elevated booth: after a few moments it would come back. Michael in posting to the Gnatterbox, 13/1/07
• "I also .. remember my mother and grandmother shopping in Clifford Evans during WWII, and the cash railway system was a fascinating high tech mystery to a 3 year old boy." Richard Randall
Clifford Evans, Broadway, Southall. "Clifford Evans in The Broadway definitely had these. It used to fascinate me. You could see the cashier up in her office sorting out the change to send back down.Just as quick then as today with tills that do everything for them." Dilys Boot in posting to Southall Message Board, 11/2/10
D.H.Evans & Co., Oxford Street. "Amongst time-saving devices will be found pneumatic cash-tubes." The Sketch, 27 Jan. 1909, p. 31
• "Many progressive merchants in Canada have already adopted 'Gipe' carriers, and such well-known houses in London, Eng. as Harrod's Stores, D.H.Evans & Co.." Dry Goods Review, May 1909, p. 38
• Pneumatic tube system installed by Lamsons in their new Oxford Street store in 1909. Times 28 July 1909, Engin. Suppl. p.18.
•"A clever installation of pneumatic cash tubes is another feature of the new premises, by which it is hoped that customers' time will be saved when witing for change, the tubes being put at the back of the fixtures, so that the assistants will not have to leave their places to run to the cash desks." London Evening Standard, 25 Jun. 1909, p. 3
• D.H.Evans' new West Block (1906-9; John Murray) .. was more modern... Its pneumatic tube system communicated with a cash desk located in a subway linking the new building with the older East Block" Morrison p. 166
Evans (grocers), Green street, East Ham, near the Boleyn. Wire system. "The wires crossed each other at points and I lived in hope that one day there would be a crash." Posting by Alan Smith to Newham Local History Forum, 12/1/06. "Quite a big shop with a reputation for high quality." Posting by John Plant, 13/1/06
Evans & Davies (dept. store), Green Lanes, about 300 yards south of Grouts [see below]. Ground floor (haberdashery, drapery, etc.) had wire system in mid 1950s."Roger Newark
• "Evans and Davies had an ingenious system for payment... There was a central cash desk from which radiated overhead wires to the various counters, along which went small, round, screw top wooden containers." R. Mott and B.M.Griffith Williams. A Southgate boyhood. (Edmonton Hundred Historical Society), p. 19
• "In 1956 during renovations to the store, the overhead wire system was removed and the shop fronts were changed." Palmers Green website
Fantos, Deptford. Cash carrier. Terence Seaward in posting to Facebook
• Photograph of exterior
David Fearn and Co., High Road, Kilburn. "A very ingenious and time-saving device in regard to 'giving change' has just been patented in this country, and it is pleasing to note that to a Kilburn firm belongs the credit of being the first to adopt and install this most recent American business success, aptly named the 'Cash Railway'. This clever contrivance is a great improvement on the older 'gravity' systems now in vogue in this country, and is much used in the large stores in the United States... It is a neat arrangement of a double set of rails, upon which the small cash trolleys are impelled by a continuous moving cable, which in turn is driven by an electric motor. These trolleys travel at the rate of 700 feet a minute, and are so cleverly arranged that each returns from the cashier to its respective 'station' in a very few seconds from the time of dispatch. Messrs. David Fearn and Co. .. have had a set installed in their new drapery saloon by the Lamson Store Service Co., and they are to be congratulated on being the first business firm in Great Britain to avail themselves of this useful contrivance." Kilburn Times, 16 Feb. 1906, p. 5
Fenwicks, Bond Street. "I remember Fenwicks in Bond Street, London having the tube system at least into the early 1970s, I worked on the receiving end of it for a bit as a temp." 'Back to the drawing board' in posting to Yahoo UK Answers
Fish shop in Harringey. "The fish shop with the overhead wires that sent the money from the counter to the lady on the cash desk". Ray Smith London Childhood Memories
Fortune-Thomson, 13,15,19 High Street, Kingsland Green, near Dalston Junction. "American cash railway now running, come and see." Hackney and Kingsland Gazette, 16 May 1888, p. 3
Gamages, Holborn. "Cashiers (temporary) wanted at once. Young ladies, with and without experience of cash tubes... Apply A.W. Gamage (Ltd.), Holborn." Daily Telegraph & Courier, 30 Nov. 1908, p. 19
• Gipe carrier system. Advertisement in The Cornubian, 14 Jan. 1909, p.4
• "Many progressive merchants in Canada have already adopted 'Gipe' carriers, and such well-known houses in London, Eng. as .. Gamages." Dry Goods Review, May 1909, p. 38
• In 1931 a committee of the creditors included representatives of the Lamson Store Service Company Ltd. and Lamson Pneumatic Tube Company Ltd. Times, 8 May 1931, p.10
• " I remember gazing in fascination at those cash railways at Gamages". June Simpson in posting to Newham Local History Forum, 12 Jan. 2006.
• See Anecdotes. Photo of exterior
Gamages, Marble Arch. (This was acquired by C & A in 1939.) "Gamage's new department store at Marble Arch .. is to be opened to the public on Wednesday... There are fifteen miles of cash tubing." Weekly Dispatch, 14 Sep. 1930, p. 5

E. & R. Garrould, 150/162 Edgware Road, W.2. "Young lady required .. as cashier (Lamson pneumatic tube). Western Gazette, 15 Oct. 1937, p. 8
Gayler and Pope, 112-117 High Street, Marylebone. "Gayler and Pope (of Marylebone High Street) sold... It is famous for its unique overhead cash railway system." Marylebone Mercury, 17 May 1957, p. 1
• "There was a small department store in those days, named Gaylor [sic] and Pope's. It was a very old-fashioned store with long overhead tramlines that whizzed the customer's bill and payment from the assistant to a cashier sitting at a desk hidden away somewhere... The store was alive with the aound of these little contraptions being pulled up, whizzed overhead then shot back to the appropriate counter and customer." Sheila Brook. Where is the key? (Brentwood: Chipmunkapublishing, 2009) p.51. (The shop specialised in nurses' uniforms. It is known in legal circles for a case where a pony pulling a milk van crashed through the window.)
"The last one [wire carrier] I remember was in Marylebone High Street some twelve years ago." Daily Mirror, 23 Nov. 1968, p.18. (Presumably the same shop.)
Henry Glaves, 80-110 New Oxford Street. "The valuable modern fixtures, fittings, furniture & equipment of the premises formerly in occupation of Glave's, including .. Lamson cash tube installation." Western Morning News, 12 Sep. 1936, p.5
Godbolds, Lavender Hill, SW11. Gipe system. "Recently dismantled for scrap" but some parts salvaged by Mrs M. Proctor - letter in "This England", Spring 1975. Five stations. Rental was £3 p.a. inclusive of repairs to the wires which frequently needed attention (Mrs Proctor). Also recalled by Michael de Larrabeiti: "There was a big draper's shop called Godbold's [sic] where they used to send the change bashing about on overhead wires, and I used to buy some little things in there just to see it happen."
Goodbans, 326-332 Chiswick High Road. "There used to be a drapers shop in Chiswick called Goodbans... It had an unusual system of overhead wires along which the shop assistants shot a canister device containing your payment for goods to a central cashier's podium. The cashier unscrewed the canister, removed your money and replaced it with your change and shot it back along the wire to the shop assistant at the counter." Brentford: a town to remember website Also Hounslow Local Studies website .
• "The store boasted 30 departments .. and retained its overhead cash railway system until 1960." Gillian Clegg. The Chiswick book: past and present. (London: Historical Publications, 2004), p. 59
• Closed in 1974 and site occupied by Boots and Robert Dyas.
Goorwitchs, Oxford Street. Pneumatic tube system. Plan of ground floor with four stations in Hammond
David Griegs, Harlesden High Street. "Each counter was connected by wire to a central cashier sitting in a little room high up, along which the money and receipt was [sic] sent backwards and forwards in a metal cylinder." 'Little Red Monkey' posting to Whirligig Message Board 24/5/05
Grose Bros., 332-344 Walworth Road, S.E. "Cashier - Wanted, young lady, used to cash railway. Ball system." Daily Telegraph, 30 Oct. 1896, p. 11.
• "Here also is the cash railway terminus, which system is fitted throughout the entire establishment, and proves of immense advantage to customers by its rapid transmission of cash and receipt." South London Mail, 13 Jan. 1900, p. 12
• Photograph of exterior
Grouts (drapers), 397 Green Lanes, Palmers Green. Gipe system in situ until closure in April 2002. System is being moved to East Anglia Transport Museum. (I visited in 2002). Video about the shop on Youtube. Photograph taken soon after closure in Morrison.
Haberdashers, Coldharbour Lane, Brixton. Later a bicycle shop. "Money whizzing upstairs in a pneumatic tube." APT Self Help website
Hall & Co. (drapers and haberdashers), Stroud Green Road, Islington, N4. Wire carrier in 1960s. Brian Boyle
Hamleys (toys). "Had a nice polished brass pneumatic tube system for the same purpose." ('Nemo' in posting to alt.fan.goons newsgroup, 21/11/05) . "I associate it with a sort of aerial dispatch system to send money from the sales counters to a central cashier... It wasn't a Lamson tube... These were probably spring-loaded overhead runways." 'Waxy' in posting to Whirligig message board, 20/11/04
Hammertons (drapers), Green Street, Upton Park. Pneumatic tube system in 1950s. Peter Ward in posting to Newham Local History Forum, 3 Mar. 2006
Hammetts (jewellers), corner of Barking Road and Denmark Street (now Jutland Road), East Ham. Wire system still in use in 1964. "Connected two counters on opposite sides of the shop with a cashier on one side." Ronald Camp
Hardwicks, Wandsworth High Street. Cash carrier "many years ago". Valerie Bradley in posting to Facebook
Harper Bros (drapers), Balham. Lamson's traveller called. BCPC called a few days later and obrtained an order, but the shop alleged they thought they were giving the order to Lamson. One of the locations involved in the court case British Cash and Parcel Conveyors Ltd. v. Lamson Store Service Co. Ltd., 1908. Also information from Frances Muncey.
Harrods, Knightsbridge. Gipe carrier system. Advertisement in The Cornubian, 14 Jan. 1909, p.4
• "Many progressive merchants in Canada have already adopted 'Gipe' carriers, and such well-known houses in London, Eng. as Harrod's Stores." Dry Goods Review, May 1909, p. 38
• "A message-carrying pneumatic tube system had been in use since Edwardian times, but the 1935 sale saw the introduction of a system that carried cash as well. It was claimed to be the largest such system in the British Empire: 63 km/39 miles of twisting pipes. Customers' money was placed in a tube and swept at 27 km/17 miles an hour down to the basement. Cashiers placed the right change in the tube, adjusted the destination number, and sent it back. The longest journey was 400 metres/one-quarter mile, and took 54 seconds... The system was still in use for carrying messages until the 1980s." (Callery, p.63). Includes a photograph of the cash office around 1950.
• "The cash room was about 80 ft long with 48 cashier's positions, which in December 1937 was serving 277 cash and sanction points. Lamson designed a new style of sales station... It was given the name .. of 'Pneu-Art." Liffen
Sales stations were finished to harmonise with particular departments, e.g. silver in the gown department and bronze in men's outfitting. Hammond Two photos in Hammond.
• The message system was installed after Richard Burbidge's trip to the U.S. in 1904, during which he visited Macys in New York. "Not until the 1970s did the volume of trade and the advent of new technology render the [cash] tube system obsolete." Dale
• "Bills, cheques and cash were sucked up to the cash office in tubes. Bills were hand-written. It was not until the 70s that tills came in." Tessa Bosworth in Millennium Memory Bank, National Sound Archive
Hawkins (drapers). Corner of High Street North and Barking Lane, East Ham. "They didn't have cash registers. When you bought your purchase the written receipt and your money was put in large tube. This tube then travelled along the ceiling to the cash office (this is so hard to explain!). Your change and the receipt was returned in the same way." DougT and Linda C in postings to Newham Story forum, 10/11/11
James Hewett, Priory House, 339-343 Wandsworth Road. "Drapery. Wanted... Lady cashier, accustomed to cash railway." Christian World, 19 Dec. 1889, p. 14
Heywoods (drapers), Manor Park, E12. Single wire system. Extant up to 1955 at least. Shop closed in mid-1960s and site is now a MFI store. Clive Page
Hinds, Blackheath. "Going shopping in Hinds was quite an expedition... They would wrap up the money in the bill and put it in one of those round things on a wire and it would go across the shop floor, above your head. The cashier would take the money, sign the receipt and push it back." Age Exchange Reminiscence Centre
Hinds, Eltham. Cash carrier. Denis Woolmark in posting to Facebook
Horncastle Ltd., 61 Cheapside, E.C. "Cashier (female) required for r.m. desk in general drapery establishment. Must be .. accustomed to cash railway system." Daily Telegraph & Courier, 25 May 1899, p. 12
Hunts, Brockley SE4 (haberdashers). Cash carrier. Pat Giazizoglou in posting to Facebook
Jones and Co., 177-179 Ladbroke Grove, Notting Hill (general drapers). "Cashier wanted .. for cash desk and accustomed to cash railway preferred." Daily Telegraph, 22 Sep. 1909, p. 18
Jones Brothers, 356 Holloway Road. Originally 2 Pear Tree Terrace. Business dated from 1867. Next door acquired in 1871 and two more properties by 1877. New building in 1892."Each shop kept its own entrance and sold specific merchandise but openings were made so that customers (and the overhead cash railway!) could pass from one to another." The shop closed in 1990. Highbury & Islington Express website
Jones & Knights, West Ealing. "I used to go there with my mum for her underwear... They definitely had the overhead pulleys for the cash." Phyl Hutnell in posting to Southall Message Board, 26/10/10.
Kinch & Lack, Victoria, SW1 (school outfitters) "diagonally opposite the Bag of Nails pub". Pneumatic tube system in 1950s. Shop went when Stag Place was widened. Giles Barnabe
King & Edwards, High Pavement, Old Kent Road. Cash carrier. Eileen Bulbrook in posting to Facebook
"Stanley Lees in Brent Street Hendon had them. They were haberdashers." Wendy Vernon in posting to Facebook
Lidstones (drapers), High Street, Walthamstow. "I remember in the High Street a draper's shop called Lidstones at the lower end of the street near Coppermill Lane. It was on the corner of Pretoria Avenue... There were wires running overhead from each department to the office in the centre. When you purchased something the assistant put your money in a 'cup' with the invoice, then pulled a lever which sent it to the office. It was then returned with your change." Walthamstow memories website
Lily and Skinner, Lewisham. "I remember Lily and Skinner Lewisham had those tubes behind a little door." Gabrielle Crawford on Facebook

MacCulloch & Wallis (haberdashers and fabrics), 25 Deering Street, W1. Shop (and system?) dates from 1902. Two pneumatic tube terminals now exposed (V. Connolly). Used to be a wire system according to some customers. Photographs
Macfisheries (fishmongers and grocers). Lamson wire systems at Kilburn (just post-war), Kensal Rise and Harlesden/Willesden. "I had thought that all large Mac branches had such systems, either tube or ball, and remember hearing that they were a large customer of Lamsons." Alan Stepney
Mappin and Webb (jewellers), 156-162 Oxford Street. "Cashier (junior) young lady aged 17-18 with experience of LAmson Tubes preferred." Middlesex Independent, 2 Mar. 1951, p. 7
Matthew Roses, Hackney. "Overhead cash tramways". Ken Neale "Christmas in Hackney in the 1920s and 1930s" in Hackney Terrier No. 56 (Winter 2000)
Maypole, Hampstead Road opposite Lawrence Corner. Cash carrier. Val Davies in posting to Facebook
Morleys, Brixton. Cash carrier. Jacqeline McLoughlin in posting to Facebook.
Nicholsons, 50-53 St Paul's Churchyard. "An improvement which adds to their customers' comfort is .. their new Lamson pneumatic cash deliver [sic] system which enables them to give change with the greatest ease." The Queen, 28 Dec. 1901, p. 54
• "My first job was at Nicholson's of St Paul's. I went their when I left school at 15 in April 1960. I worked in the Counting house (I think it was on the 5th floor), I use to help in the cashier/office when they were busy which was in the basement I use to send the change in those canisters up the pipe work to the various departments." Mrs P. Harris on Flickr
North London Drapery Store, Seven Sisters Road, N7 (between Axminster Road and Salterton Road) Lamson tube system in 1940s/50s. Posting to uk.rec.subterranea newsgroup, 13/8/02 and Ray Smith London Childhood Memories. Working into the 1970s Eric Galvin
'Our Sons' (menswear), 93-95 Golders Green Road. "The shop has been enlarged by about one-fourth... One of the chief innovations to my mind is the installation of the overhead cash railway system, for apart from the purely commercial aspect of the matter, these travelling cash boxes are an undoubted attraction. The kiddies love to see and hear them whizzing about, and many a mother is influenced in choosing a shop by the thought that there is entertainment for the children as well as bargains for the grown-ups." Hendon, Finchley, Edgware and Mill Hill Times and Golders Green Guardian, 1 Apr. 1927, p. 6
• "The overhead cash railway has been adopted, with fourteen stations ready for operation - another innovation which will greatly accelerate the service to clients." Ibid, p. 16
Owen Owen, Finchley. Pneumatic tube system. Guardian, 20 Nov 1998, p.14
Penistans, Camberwell Green. "I remember a large department store in Camberwell Green in the 50's called Penistas I think. It also had a grand staircase down the middle 'dynasty style' brown wood and brown wood panelled walls, leading up to the clothes department floor. It had a Shute where the money was placed and sent up to the cashier. Fascinating thing to watch as a child." Maria Zachariades on Facebook.
• " There was a department store in Camberwell called Penistans which had a pneumatic cash/change system which I thought was a fantastic thing at the time". Leonard Bentley on Flickr
Pecry's, Catford. In use in 1950s/60s. "I was always fascinated where the tubes went along to the main cashier where she would put any change in and return it to the counter where you were buying your goods." Brenda Bladon on Facebook
Peter Jones, Sloane Square. See Court Cases
Petits (women's clothing), Kensington High Street. "It was the last shop still using a system of receipts for customers transported by overhead wires. The cashier sat in a sort of overhead balcony. The sales assistant made out a bill and sent it by pulleys and wires to the cashier, who kept one copy and stamped the other 'Paid' as a receipt for the customer, and gave the necessary change. This was all transported by wire and pulley back to the sales assistant on the ground floor, who then gave the customer her change and receipt." RBKC Local Studies website
Pontings (drapers), Kensington High Street. Pneumatic tube system in use after WW2. Cashiers' point was in the sub-basement, two levels below street level. P.Bird. Photo of exterior
Pratts (John Lewis Partnership), Streatham. Pneumatic tube system in early 1950s. Robert Jackson. Photo of exterior
Priors, North Finchley. Wire system in 1960s. (Posting to rec.arts.sf.fandom newsgroup, 14/10/95 which says it worked by a clockwork motor!). Cash office was in the centre of the store. Shop was taken over by Owen Owens in 1970s. Paul Hornby also remembers the wire system
William Pryke, 482-484 Holloway Road (opp. Tufnell Park Road). "In order to facilitate rapid serving, Mr. Pryke has introduced the cash railway." Holloway Press, 16 Dec. 1892, p. 2
Pughs, Hampstead Road. "They had an overhead cable system with the money being put in sort of boxwood cups that plugged into a thingy with pulley wheels. The assistant then pulled a lever that parted the two cables and sent the thing off to the cashier's desk at very high speed." (A rare description of a Gipe system in alt.fan.goons newsgroup, 17/3/04)
• "The bill and your cash were put into a small boxwood tub which was screwed onto a thingy which shot along a couple of steel cables to the central cashier when the assistant pulled a handle, and came back with your receipt and change." 'Nemo' posting to same group, 21/11/05
T. Pulman and Co., 328 Oxford Street (opp. Bond Street). "Drapery. Wanted, junior young lady, as cashier, with knowledge of dissecting and cash railway." Daily Telegraph & Courier, 24 Apr. 1899, p.12
Quin and Axtens, 422-436 Brixton Road, S.W. "Wanted, a young lady as cashier. Must have had previous experience with cash railway." Daily Telegraph & Courier, 23 Sep. 1895, p. 9
Rexs, Southgate. Cash Ball system ceased to operate in late 1960s. Information from Mrs Proctor
Roberts (drapers), Holloway Road, near Highbury station. "These money holders ran on a track overhead and arrived the other end, where the change (If any) and receipt were put back into the holder and sent back to the counter where the customer waited." Jean Williams on Facebook
J.R. Roberts, 78-102 Broadway, Stratford. See court cases, 1896. Closed 1954 and building sold to London Co-operative Society.
• Pneumatic Tube system by 1900. Draper's Record, 17 March 1900, p.676
• "Henry Franklin, 32, an electrical engineer at Messrs. J. R. Roberts, ... was mending the cash railway." Eastern Counties' Times, 12 Oct. 1901, p. 3
• "Many progressive merchants in Canada have already adopted 'Gipe' carriers, and such well-known houses in London, Eng. as .. J.R.Roberts Stores Co., and many others are now using them; the latter DISCARDING pneumatic tubes." Dry Goods Review, May 1909, p. 38
Robinson & Cleaver, 156-168 Regent Street. Drapers firm from Belfast. Branch opened in 1894. Had a Pneumatic Tube system by 1900. Draper's Record, 17 March 1900, p.676
• "Mr Crane remembers the first Lamson Pneumatic Tube in London at Messrs. Robinson and Cleaver, Regent Street." Marylebone Mercury, 15 Jul. 1949, p. 3
• "Cashiers for Lamson Tubes and desk work... Apply to the Counting House Manager." Harrow Observer and Gazette, 7 Nov. 1946, p. 9
P.W.Rogers, 161-163 High Street, Penge, SE20. "At the end was the excitement of the cash transaction which involved the machine above the assistants' heads being used to send money shooting along a wire, in a small container near the ceiling, to the cashier... The Lamson Rapid Cash Carrier single wire with spring propulsion would bring your one farthing back if you insisted on change rather than pins." David R. Johnson. Around Crystal Palace & Penge. Stroud: Sutton Publishing, 2004, p. 130. Photographs of counter and Lamson Rapid carrier.
W. Roper and Co. - see Bon Marché, Kilburn
F.H.Rowse, Broadway, West Ealing. "The general equipment of the F.H.Rowse store is on the most modern lines... The Pneumatic Cash Tube system, as supported by the Lamson Pneumatic Tube Co. Ltd., has been in use for some years, and just recently the same firm installed a complete vacuum cleaning plant." Middlesex County Times, Jubilee Suppl., 4 May 1935, p. 14
• "F.H.Rowse, Ltd .. have the following vacancies in their Counting House .. Full time cashier for Lamson Tube Room." Harrow Observer and Gazette, 19 Apr. 1956, p. 19
Matthew Rose and Sons, 347-357 Mare Street, Hackney. "Draper's cashier wanted .. accustomed to cash railway system." Daily Telegraph, 13 Dec. 1898, p. 13
Royal Arsenal Co-operative Society, Morden. "The R.A.C.S. department store at Morden used the [pneumatic tube] system." PoohBah in posting to Toluna Influencers, Jan. 2022
Royal Arsenal Co-operative Society, Peckham. "The R.A.C.S. is to end the cash tube system which has operated at Tower House, Rye-lane, Peckham, for many years. To provide a speedier service, cash will be taken at the point of sale." South London Observer, 14 Sep. 1961, p. 5
Royal Arsenal Co-operative Society, Woolwich. Overhead wire system. The carriage returned with change and dividend in the form of embossed tin discs. John Boon's memories
E.A. Rudd, Harrow House, 304-306 Harrow Road. "E.A. Rudd begs to announce that he is now offering his large and well-assorted stock of general and fancy drapery at his usual great reductions... The introduction of the new American cash railway facilitates the serving of customers and prevents delay and inconvenience." Willesden Chronicle, 23 Aug. 1889, p. 6
Walter Rush, Shepherds Bush. "We had this [cash carrier] in a shop called walter rushes in shepherds bush london." 'Macslag' in posting to Pinterest
Sainsburys, Chingford Mount. Cash carrier. Peter Edmund Norris in posting to Facebook.
Sainsburys, Southgate. Pneumatic tube system. Posting to alt.folklore.urban newsgroup, 21/4/01
Sainsburys, West Kensington. "When I worked in Sainsbury's in West Kensington in the late 1980s we had a pneumatic tube system for sending money to the cash office." The Domestic Townscape website
John Sanders, Ealing Broadway. "Reconstruction and new building of Ealing Store... The Lamson Pneumatic Tube Company have installed a complete pneumatic tube cash and sanction service. This consists at present of no fewer than 27 stations, serving departments throughout the establishment. All these departments connect with the cash desk, situated on the ground floor, and a continuous service both ways is maintained. Each station is served by five marked and numbered carriers, containing the bill and cash. Independent communication between cash desk and sanction office is also given by tubes.
Service at the desk is much facilitated by the continuously running belt, which is a peculiar and valuable feature of the Lamson Cash Tube Service.
The compact power plant fixed in the basement consists of a motor driven turbo, manufactured by the Lamson Company in their Willesden factory. The plant throughout is of the well-known Lamson Power Control type, by means of which important economies in running costs are ensured." Middlesex County Times, 3 Sep. 1932, p. 7
Sanders (jewellers), Brixton. Lamson pneumatic tube system. Became Ratners. Blower and some stations in back office were still there in early 1990s. N.Pitt
Eldred Sayers & Son, Ealing. "Cashier reqd for Lamson Tubes." Uxbridge & W. Drayton Advertiser and Gazette, 9 Aug. 1946, p. 2
Shoolbred & Co., Tottenham Court Road. "An opportunity was given yesterday of inspecting the installation as fitted up by the Lamson Company at the extensive stores of Messrs. Shoolbred and Co., Tottenham-court-road. About a year ago that firm gave orders for twenty stations in their stores to be fitted up with the Lamson tubes. So satisfactory was the working of these stations that Messrs. Shoolbred gave instructions for the extension of the system to the whole of their establishment... The installation at Tottenham-court-road is the largest in Europe, containing, as it does, over three miles of tubing... The installation is driven by a gas engine of 15 horse-power, which works the motor exhausting the tubes." Morning Post, 4 Dec. 1901, p. 9
Selfridges, Oxford Street. [The first quotation is somewhat surprising with a wire system being used for such a large store. The second refers to a pneumatic tube system which is more appropriate.]
• "When I was around eight years old my mother began taking my brother and I to Selfridges to see the Christmas decorations... One thing really intrigued me. My mother had bought a small item, and the assistant had written out a bill. My mother gave her a £1 note. This was taken, wrapped up with the bill, and placed in a cylinder. This in turn was screwed onto another part that was permanently attached to a cable, which was somehow hanging up in the air about head high. After these two parts were locked to one another, the assistant would pull a cord and the cylinder with the money and the bill would then be catapulted overhead, running along a cable at quite some speed. The departmental areas were quite large, and if you can imagine numbers of these cylinders from the different counters, lots going out and lots coming back - this was quite an interesting piece of mechanism for a young boy. Where did they go to? Which would be ours on the way back? Would it ever come back?" Mr R.H.James describing 1924, in G.Honeycombe. Selfridges: seventy-five years (London: Park Lane, 1984) p.209
• "David is describing the vacuum machines where they used to shoot cash and change through tunnels - as in Selfridges in London in the 1930's. John F.Winston in posting to talk.religion.newage, 18/1/96
• "The cash carriers are also made up as white rabbits." [Referring to a tie-up between Walt Disney and Selfridge's Store for Christmas decorattions.] Kinematograph Weekly, 10 Jan. 1952, p. 22
Sherrys, Putney. ?Corner of Lacey Road. "I think they sold material or something like that. They always had one of the vacuum type systems which fascinated me! " Mr Wobbly in posting to Whirligig message board, 19/10/09

Simpsons, Piccadilly. Lamson pneumatic system. (Independent, 13 Dec. 1998, p.38). "Fifty-six stations of different design .. harmonise with the particular department served... To differentiate between cash or 'charge-send' or 'charge-take' transactions, various coloured carriers are used." (Hammond) Photo in Hammond of men's outfitting. In use in the 1970s. "The Older Gentleman" in posting to uk.rec.motorcycles group, 13/12/2004
Smith Bros., Tooting. Cash carrier "years ago". Shirley Dolby in posting to Facebook
W.H.Smith (outfitters), 123 Tooting Broadway, SW17. Still using Rapid Wire system in 1977. Daily Mirror, 21 July 1977, p.20.
• Four lines. Not in regular use but still there in 1980. GLIAS Notes and News
• Also Tooting website and Tooting Guest Book. Photographs
• Section is on display at Museum of London. GLAIS Notes and News, June 1978
Speakes, East Acton. Cash carrier. Yvonne Kirkum in posting to Facebook.
Henry Spokes (drapers), 1-17 Lower Clapton Road, Hackney, E9. "The cash and bill [were] placed in a screw-capped wooden container and catapulted along to a central cashier's booth." Spokes closed in late 60s/early 70s. James Burns. Photograph of exterior
• "I remember the screw on glass jars for cash that operated on a similar system, in 'Henry Spokes', Hackney, London in the fifties to early sixties. the salesperson would wrap the goods while the cash wizzed over to the cashier and back with change and receipt." Paul Goodhand. ['Glass' must be an error.]
Staddons, Balaam Street opposite Abbey Arms, Plaistow, E13. Wire system. "A focus of fascination with the antiquated ceiling mounted 'money transfer infrastructure'". Posting by Steve to Newham Local History Forum, 12/1/06. Was there in late 1952 (V.Coster worked there) and in 1964 (Ronald Camp).
George Steer & Sons, 166-168 High Road, Willesden Green. Wire system, privately preserved. GLIAS Notes and News, June 1980. Shop closed on 25 March 1978.
George Stroud, 65 High Street, Lewisham. See Court Cases, 1909
H. Sweet (outfitters/drapers), Maryland Point, Stratford. Overhead wire system in 1950s/60s. Newham Local History Forum
• 10-wire system. GLIAS Notes and News, June 1978
Taylors' Drug Co., 26 & 27 High Holborn. "The cash railway saves you time and trouble." Islington Gazette, 4 Aug. 1905, p. 2
Tee and Webber in Edmonton had one right up until the 60/70s loved watching the money pods whizzing around the shop. Another shop had an air suction tube system." Arlene Izod
Trundles, Lordship Lane, Dulwich. "Trundles which sold millinery and lingerie .. had a fascinating cash collecting system whereby the cash and the bill were put in a screw-capped wooden container which whizzed along overhead wires to the cashier and was returned with your change." Dulwich Society Newsletter, Winter 2005
Tulley's (house furnishers and drapery), 289-297 Fulham Road, S.W.10. "Tulley's have made a steady but sure advanceforward, many additions having been made to assist the efficiency of their business.. the most up-to-date Pneumatic Cash Tube System recently installed." Chelsea News, 5 Jan. 1934, p. 5
Wades, opp. Edmonton Town Hall. "I'm sure Wades the School Uniform shop opposite Edmonton Town Hall had one [a cash carrier] as well." Trisha Lewis in posting to Facebook.
Wards, Seven Sisters Corner, Tottenham. "We saw our last Lamson Rapid Wire in action at Ward's Stores (alas, no longer there) in South Tottenham, London, a few years back. Daily Mirror, 29 June 1977, p.24. Photo of exterior
• "As a child 1940,s 50, Wards stores was the classy store in the area. I loved the overhead money collection system where the shop assistant would put the cash in a small container, screw it to the overhead delivery system and then fire it by a catapult to the main cash desk in the middle of the store, all great fun when you are a kid." Laurence Martin posting to Haringey Online 14/9/10
Alfred Weeks (drapers), 52-54 Heath Street, Hampstead. "Alfred Weeks, where I remember in the 1930s wheeled bronze capsules whizzing on wires overhead as customers' money was carried to the cash office and their change returned to each counter." Alistair Service. Victorian and Edwardian Hampstead: two walks around its streets and buildings. (Historical Publications, 1989) p.84
S.Weiss (lingerie), 2 Golders Green Road. Pneumatic tube system. Quotation from Lamsons dated 15 February 1936 in Erno Goldfinger Papers, British Architectural Library (GOLER/224/14): 3 stations on ground floor, 4 on first and 3 on second and gravity cashier's desk. Purchase price £275 net or lease for 10 years at 5 guineas per station per year.
S.Weiss, 59/63 Shaftesbury Avenue. Pneumatic tube system. Quotation from Lamsons dated 12 March 1951 in Erno Goldfinger Papers, British Architectural Library (GOLER/227/5): 6 stations on ground floor and 3 on first. Lamson Cash Power Control Gracity [sic] Desk and Slow Speed Multi-stage Turbo Set. Purchase price £930 or yearly rental of 15 guineas per station.
Whiteleys, Queensway. "We had a Lamson Paragon system like this when I worked at Whiteleys of Queensway in the early 1950s." Linda Grant in Historic Photographs on Facebook
Wickhams, Mile End Road. "The Institute recently completed a month's investigation in the Central Cash Desk of Messrs Wickhams (C.Barker, Ltd.), in the Mile End Road, London, where the Lamson Pneumatic Tube System is used." (Occupational Psychology, date unknown, p.261). Photo of exterior
A.B.Williams, North End Road/Lillie Road, Fulham. "An interesting installation is the Lamson tube system, so that every transaction may be handled by one cash room. This is riven by an 8-h.p. engine, which is also responsible for pumping fresh air into the building... One of the most interesting places in the new building is the cashier's room, in the basement. Here, at the end of the Lamson tubes, sit three, four, or five cashiers dealing with payments and change that come to them, first from one tube and then another." West London Observer, 30 Oct. 1925, p. 7
Williams & Thomas, 44-44a Broadway, Stratford. "Owing to the great increase in our trade .. we have had the new cash railway system fixed all over the house." Stratford Express, 9 Jun. 1888, p. 1
Wilsons, Crouch End. Wire system in mid/late 1950s. Simon Green
Woodmansees (general outfitter), Barking Road, ?East Ham. "Almost opposite the Gas Light and Coke Co offices... Used to have an extensive system of ?vacuum tubes." James Briggs in posting to Newham Local History Forum, 3 Mar. 2006
Woolworths, Broadway, West Ealing. Cash carrier in early 1970s. John Wallis on Facebook
Woolworths, Stratford. "Remember them [cash carriers] in Woolworths in Stratford. Brenda Smith in posting to Facebook
Youels, Catford. "Pecrys and Youlls both had them [cash carriers] but Youlls was the haberdashery." Kitty Dawes on Facebook
• "The shop that fascinated me the most, was a drapers called Youel's, situated between the Black Horse pub and Sangley Road. Mum bought curtains there, but the real attraction lay in the way cash was handled. When you purchased something the assistant took your cash, put it in a container which was part of an overhead system of cables, and these containers whizzed back and forth from the tills to the security protected cash desk. It was quite exciting to watch as it had a novelty value." Catford Chronicle website
Young and Martins, Romford Road near Broadway, Stratford. Wire system. Posting by 'Barry' to Newham Local History Forum, 3/3/06 and by DH 12/11/11
Museums

Age Exchange Reminiscence Centre, Blackheath. One run of Rapid Wire system with two propulsions and one carriage set in reconstruction of A.H.Davis shop from Hackney. See photographs.
Heritage Centre, Old Dispensary, 30 Romford Road, Stratford, E15. Wire system, formerly in Manor Park museum, but not on display.

Museum of London. See RICHMOND.
Redbridge Museum. See DUNHAMS above.

indicates systems which are still there (as far as I know) though they may not be working.