COLORADO SPRINGS. Hibbards (dept. store). "Your #9 Package Carriers were installed last December [when the building opened]... We have had years of experience with other systems." Testimonial of 23 January 1915 in a magazine advertisement. An illustration shows "a few of the 32 Lamson No. 9 Parcel and other carriers used in the store."
• The basket carrier was replaced with a pneumatic tube system in the early 1920s. Business closed in 1996. Photographs. Rob Hibbard via Robin Adcroft
• Pneumatic tube system recalled in Pax Vobiscum website
FORT COLLINS. State Mercantile. "Salespeople in the State Mercantile company's store will not wrap your purchases. They will be sent by carrier baskets to the balcony, inspected, wrapped and sent back in a jiffy neatly done up. The inspection feature will insure for the customer the articles he has purchased and guard against any errors. What is known as the Lamson carrier system is used, the baskets and all fittings being of brushed brass to match the general metal fixtures. Fort Collins Courier, 13 Nov. 1907, p. 1
HOLYOKE. Tinkle, Williams & Co. "have put in a system of cash carriers in their store. This is another labor saving invention which will be highly appreciated by the clerks in hot weather." State Herald (Holyoke), 19 July 1889, p.1
MEEKER. Hugus. "The Hugus company are fixing their commodious store room up preparatory to putting in the cash trolley system. Nothing will stop us in our onward march to metropolitanism." Meeker Herald, 4 Jan. 1902, p. 4
NORTH DENVER. J.C.Penney, Chaffee Park shopping centre, 48th and Pecos. "When you gave the clerk your money, she put it in a pneumatic tube and sent it to the lone cashier, who sat in a windowed cage above the main entrance to the store." Dixie Darr in Salon Blogs, 3 Nov 2003.
PAONIA. Stewart, Hunt & Co. are putting a cash railway system into their store, availing themselves of this metropolitan convenience. It will save many steps and much time." Delta Independent, 8 May 1903, p. 3
PUEBLO. T.P.Peale, Cor, Fourth and Main streets. "Set the balls rolling! Completed is our new, elegant cash railway system and on Thursday morning, July 10th, trains began running on all its branches. There are over 500 feet of track now completed, with six stations, each station being furnished with an elevator for the purpose of elevating the passenger (cash) which is enclosed in a hollow ball and hoisted to the track by means of the elevator and runs to our new cash desk... The cashier receives the ball at the desk, opens it, makes change and returns same to station from whence it came. This is all done in less time than it takes to tell it. There can be as many as 44 balls in motion at one time going and returning to desk... Don't fail to call and see the wonder to-day. It will amuse you for hours watching each ball going to its own switching, etc." Colorado Daily Chieftan, 10 July 1884, p. 8
PUEBLO. Stanchfield Says. "Today we increase our force, start our cash railway system running and will be, we hope, able to accommodate everybody." Colorado Daily Chieftan, 16 Dec. 1892, p. 8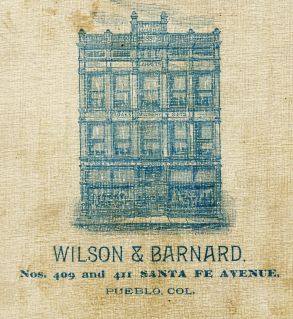 PUEBLO. Wilson & Barnard, 415-417 Santa Fe Ave. "C.M.Johnson, of Chicago, agent for the Lamson cash railway system, is in the city, and is putting up cash railways with all the latest improvements, in Wilson & Barnard's double store." Colorado Daily Chieftan, 7 Mar. 1886, p. 8
• "The above goods are sure to make the balls roll lively in our new Lamson's Cash Railway system." Ibid., 21 Mar. 1886, p. 8

PUEBLO. Paul Wilson, Main and 6th Streets. "The Paul Wilson Dry Goods Co. are putting in the basket and cash railway system, a novel and new invention... It is being put in by the Lamson Cash System Co., of Chicago, and will be the first one put up in Colorado." Colorado Daily Chieftan, 16 Oct. 1889, p. 62
• "The Lamson cash railway and parcel system has been introduced in the great dry goods house of the Paul Wilson company, and the manager would like to have the people come and see it." Colorado Daily Chieftan, 10 Nov. 1889, p. 6
STEAMBOAT SPRINGS. J.W.Hugus & Co., 912 Lincoln Avenue. Now Thiesen Mall. "One of the nation's first chain of general stores operating from 1879 until 1926... The various departments in this store were .. equipped with electric lights, cash carriers and other labor saving devices. Yamp Valley website
TRINIDAD. Jamieson's (dep. store), 150 East Main Street. "The Jamiesons had equipped their store with a complex basket conveyor system that connected each department of the store... Clerks would put the money in a special change box and load it in a basket on the conveyor system to be sent to the central change station." (Jerry Stokes: A walk through the history of Trinidad, 1986). Store was founded in 1889 and closed in 1980s.