An agent was despatched to Europe on 5 July 1884 (Boston Post, 1 Jul. 1884) with a model to be exhibited in England and other countries. By then there were over 250 stores in the USA using Lamson's systems.
In 1885, John Magrath Kelly (from Providence) became the agent for the Lamson Cash Ball system in London, operating from a small private hotel in Craven Street. Arnott & Co. of Glasgow introduced the first Lamson system into Scotland in July 1885 and one was on order (made in Boston U.S.A.) for William Renton of Edinburgh. One was installed in Belfast in July and by November there were a number in Glasgow, three in Edinburgh, one in Aberdeen and one in Dundee, installed by "workmen from the Company's factory in America." The Kilkenny Moderator, 5 Aug. 1885, p.4, claimed that the first English Lamson system was being installed in the London house of Arnotts, but I have found no other reference to this shop. The Irish Times, 24 Aug. 1885, p. 6, stated that the Lamson Cash Railway was "extensively used on the Continent [of Europe?]" and "Those who have just concluded their labours in Messrs Arnott and Co.'s premises are now proceding to England, from where they go to Russia."
The following year Kelly leased 22 Bloomsbury Street, with the cellar as a storeroom, the ground floor as factory, and the first floor as accommodation for his family. In February 1886, the Bristol Times and Mirror (24 Feb. p. 5) reported that there were 125 systems in use in the United Kingdom. One early sale must be reflected in the advertisement in the Times of 29 December 1887 by a cashier "thoroughly conversant with the Lamson Store Service system" seeking an engagement. Another strand of the Kellys' enterprise (now based at 1 Charlotte Street) was reported in The Golden Rule, 20 Oct. 1887, p.7. Two of the Kelly Brothers' friends had been cured of paralysis and the brothers had secured control of the Moxie Nerve Food business in England.
The cash railway business flourished and on 9 August 1888 the Lamson Store Service Co. Ltd. was established in Britain at 1 Charlotte Street, London W.C. The capital was £85,000 divided into shares of £10 each. The company had rights to the ball system for the "Eastern Hemisphere", i.e. Europe, Africa, Australia, New Zealand and the Middle East. UK Patent 18566 was granted to it. In 1892 the factory was moved to Alpha Place, off Caledonian Road near Kings Cross and the office to 20 Cheapside, London E.C. At the first Annual Meeting it was announced that the gross receipts were £11,339 and that 3,725 stations were operating (in the UK?). Joseph Francis Kelly (accountant) owned 50 shares, William Strickney Lamson (gentleman) owned 200, John Magrath Kelly (gentleman) owned 205, and David McLean (gentleman) owned 3,249. Stephen Herring became Secretary in 1900 and Managing Director in 1902.
Lamson Engineering SA was based in Johannesburg.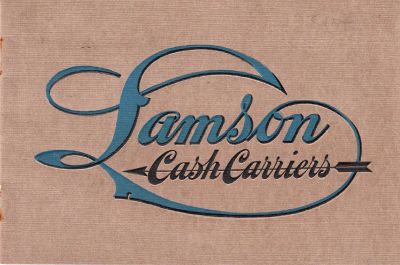 After Lamsons took over the Rapid Service Store Railway Company, Kelly started selling wire systems in the UK around 1894. The Lamson Rapid Wire system is the best-remembered in the UK and the one which is most commonly found in museums. Lamsons also took over the Air-Line Company. The brochure with cover shown on the left (probably early twentieth-century) includes two single-line carriers, "Rapid" and "Challenge" as well as a double-line system which looks like Air-Line (though not named). It states that a London firm had recently placed an order for over 800 stations of the Challenge system for their branches around the country. I have not found instances of Air-Line systems being used in Britain. The brochure also includes the "Velox" package carrier, the Ball Cash Carrier, the foot-powered pneumatic tube and the "Perfection" cable system.
The Bostedo Package and Cash Carrier Company brought its system to Britain in 1897. Lamsons bought out its interests in the UK on 4 May 1899 and established the Lamson Pneumatic Tube Company. Louis Gordon Bostedo (merchant) was one of the subscribers and the first managing director was John Kelly. The registered office was 20 Cheapside. An advertisement in the Drapers Record, 15 Sep. 1900, states "10,000 stations in operation...Large systems to be seen in daily operation in London and the provinces...Systems leased or sold on favourable terms." The London address is 20 Cheapside, the Australian address 234 Clarence Street, Sydney and the works Albion Street, Kings Cross.
The second annual dinner and smoking concert of the company at the Manchester Hotel, Aldersgate Street, was reported in the Islington Daily Gazette and North London Tribune on 6 January, 1904, p. 5. The Chairman mentioned that he had received from Mr. S. Gates, on behalf of the Australian staff, their cordial New Year's greetings to the London staff.
The Lamson directors closed both the store service and pneumatic tube factories at King's Cross in 1911 and moved all manufacturing to a new site at Hythe Road, Willesden Junction. There were successive enlargements and additional premises were purchased at 20/21 Hythe Road. The Times of 6 April 1934 (p.12) reported a serious fire at the factory. About seventy people were said to be employed there but the next day Lamson stated that the fire was confined to one section and practically all the employees, who numbered several hundreds, remained at work.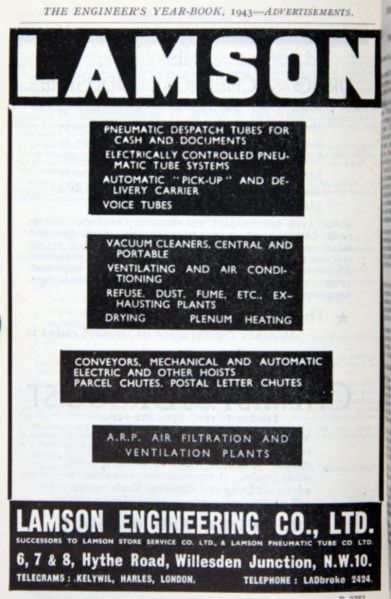 The Lamson Engineering Co. Ltd. was incorporated on 20 January 1937, acquiring the business and assets of the Lamson Store Service Co. Ltd. and Lamson Pneumatic Tube Co. Ltd. David McLean was appointed chairman. The directors included Sir Alan McLean (the son of David McLean), Richard Graham and Paul Herrick Kelly (the son of John Magrath Kelly). Its offices were at 132 Cheapside. Lamson Investments Ltd. was then registered with a nominal capital of £1.5 million to acquire the issued share capital of Lamson Engineering and to enter into agreement with Paragon Holdings, Lamson Pneumatic Tube Co., Lamson Store Service Co. and Lamson Paragon Supply Co. The directors were Sir Alan McLean, John M. Evans, Stephen Herring (director of Lamson Engineering Co.), Richard Graham, Paul Kelly and Sir Frank Nelson. Yorkshire Post and Leeds Intelligencer, 25 Jan. 1937, p.13
In 1952 the managing director of Lamson Engineering Co. was Ralph L.Herring (the son of Stephen Herring): Paul Herring K.S.G. had recently stopped being joint managing director. The firm offered "cash & message carriers, parcel conveyors, chutes, hoists, ventilation & air conditioning, fume & dust extraction and industrial vacuum cleaners". Mr D.C.H.McLean became managing director in 1959 when Ralph Herring resigned due to ill health (Foundry Trade Journal 8 Oct. 1959, p.298). It remained prosperous up to the 1960s.
Lamson Industries Ltd (see Lamson Paragon below) in 1971 listed its major operating subsidiaries in the UK as including Automaticket Ltd, Bell Punch Co. Ltd, Caribonum Ltd, Caribonum Sales Ltd, Dart Cash Carrier Co. Ltd, Decoflex Ltd (formerly Lamson Paragon Ltd - Packaging Division), Funditor Ltd, Hunt & Colleys Ltd, Lamson Engineering Co. Ltd, Lamson Paragon Ltd, Lamson Viatron Computer Systems Ltd, Sumlock Comptometer Ltd, The Ruf Organisation Ltd and Victory-Kidder Ltd. The turnover for the first half-year of 1971 was £34M and net profit before taxation £3M. The address was Lamson House, 75/79 Southwark Street, London SE1. Birmingham Post, 19 Aug. 1971, p. 4. A report in 1974 stated that by far the largest proportion of the Group's turnover was derived from outside the UK in over thirty subsidiary companies including in Australasia and South Africa. Birmingham Post, 31 Jul. 1974, p. 4
Lamson Industries (UK) Ltd was set up on 17 August 1990 with its registered ofice in Potters Bar. It was dissolved on 23 September 1997. (DueDil website)
In 1973 or 1974 the Willesden factory was closed and the firm moved to new premises in Stoke-on-Trent along with its subsidiary, Dart Cash Carrier Company (Guardian, 29 Nov. 1973, p.26). Arthur Bullivant worked for Lamsons for over 40 years, becoming Chief Engineer in 1950 and finishing as Deputy Chairman in 1973 (Transactions, Newcomen Society vol. 66, 1994).

In 1952, the Lamson Engineering Co. of London set up an outpost in the Netherlands. In 1963 this became an Anonymous Company and in 1976 a Private Company. It has a daughter company Lamsonair BV from whose website (in Dutch) some of this history is derived.
Lamsons were represented in France by Etablissements Jaquet, 28 Place Saint-Georges, Paris 9e according to some advertisements of 1927-9 offered on eBay.
The original cash carrier ball was reported to sit in the lobby of Lamson Industries in London, the gift of Samuel Abbott Lamson, William Lamson's grandson. Lowell Sunday Sun, 9 June 1963, p. 52.
The Dialled Despatches company marketed carriers which could be routed to the correct destination, at first using the note produced by a reed on the carrier to operate switches and later using a series of metal rings on the carrier to make electrical contacts in the tube. The company was a subsidiary of Camper & Nicholsons (originally a luxury yacht builder) based in Gosport, Hants on the site of their boatyard. Camper & Nicholsons merged with Crest Securities and became Crest Nicholson in 1972. In 1976 the company took over Lamson Engineering Company and renamed it D.D. Lamson. Frederick Cooper acquired Lamsons in 1987 from Crest Nicholson and in 1990 it was sold to J.Bibby & Sons for £8.2 million. Later it was incorporated with BVC (a descendent of the British Vacuum Cleaner Company) and became part of the South African-based Barloworld Ltd. On 27 July 2007 the business and assets of Barloworld Vacuum Technology plc were acquired by Quirepace Ltd. which has installed many systems in supermarkets and hospitals. (Seventy Years of Defence Electronics )
The (Acton) Gazette and Post, 20 Dec. 1979, p. 11, reported that George Buckland, who had worked as an installer for D.D. Lamson Air Tubes of Park Royal for 50 years, had been presented with an air tube carrier containing two gold soverigns to mark his long service."
The Lamson Paragon Supply Company was established in London in 1889 by amalgamation of the Paragon Check Book Co. (established 1886 in the City of London) and the Lamson Store Service Co., with rights to salesbook patents and manufacturing know-how throughout Europe and Australia. It built a factory in Canning Town in 1893 and factories elsewhere in England and overseas. (Victoria County History: Essex, vol. 6). In 1955 it became part of Lamson Industries Ltd and in 1977 it merged with the Moore Corporation.