Locations - Wales
The first system in Wales is probably at Ben Evans in Swansea in 1885 and the first in Cardiff was George Hopkins in 1887. The first in North Wales was the Nelson Emporium in Caernarvon in March 1888.
ABERDARE, Glam. Co-op dept. store, Cardiff Street. Pneumatic tube system in use in 1960s. Richard Coulthurst
ABERDARE, Glam. Liptons (grocers), Canon Street. Wire system. Richard Coulthurst
ABERDARE, Glam. Pughs (drapers), Victoria Square. Cash carrier. Richard Coulthurst
ABERGAVENNY, Mon. Co-op. "I .. have lovely childhood memories of the canal and town .. and co-op with cash tubes above you on wires." Mrs E. Powell in posting to The Focus website.
ABERYSTWYTH, Card. Co-op. Wire system in early 1960s. (Trevor Lewis worked there and told me the dead mouse story. Also David Lloyd)
• "The Gt Darkgate St store also also had wires going from payment place to a cash area - money was put in metal tin **, springloaded and sent to cash area and logged against your number - change sent back to you .... fascinating for a child." Flickr
ABERYSTWYTH, Card. Co-op. Penparcau. "Money changed via overhead wire up to the cashier." Allan Mckenzie posting to Aberystwyth Online, 22/5/08
ABERYSTWYTH, Card. James stores (grocers), Terrace Road. Wire system. (David Lloyd)
BANGOR. W.O.Williams (high-class tailor), 348-350a High Street. "All are invited to inspect the new cash railway system at W.O.Williams, Bangor. No more waiting for your change; there are several stations on this line for your convenience. North Wales Chronicle, 16 Sep. 1899
BLACKWOOD, Mon. Bargoed Emporium. Cash carrier. Ann Williams on Facebook
BRIDGEND, Glam. Herbert and Woodward, ?Adare Street. "Michael Davies and Griffiths (F.A.I.) have received instructions from Messrs. Herbert and Woodward and Co. Limited (who are giving up the Retail Department) to sell by public auction .. Meteor 2-Run Cash Railway complete." Western Mail, 23 Aug. 1922, p. 1
BRIDGEND, Glam. Shufflebothoms, drapers. Cash carrier in 1940s. (D. Crook)
BRIDGEND, Glam. Stuchberys, Caroline Street. "Who remembers Stuchberry's [sic] .. It was an Aladdin's cave. My mum used to buy dress fabric and haberdashery there. Remember the vacuum tubes that took the money to the cashier and then came back with your receipt and your change? .. We had to go there for most of the Girl's Grammar School uniform." Francis Frith website with photo of exterior.
BRYNMAWR, Breck. Blaina Industrial and Provident Society, No. 2 Branch. "The handsome new buildings .. were opened on Monday afternoon... The trading departments are fitted up with Lawson's [sic] 'cash railway'. South Wales Gazette, 15 Feb. 1901, p. 6
BRYNMAWR, Breck. W.J. and C.T. Williams. "Sales by auction. In bankruptcy... Stock-in-trade and trade utensils... Cash Railway." Western Mail, 3 Aug. 1925, p. 1
CAERNARVON. Co-op. Stryd y Porth Mawr. Cash carrier. Nigel Webber in posting to Facebook, 8 Aug. 2016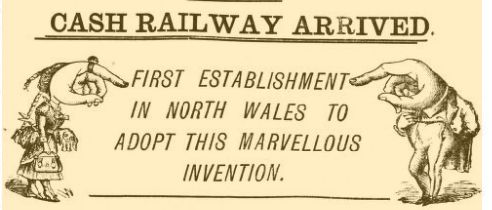 CAERNARVON. Nelson Emporium (Morris and Davies) . "The celebrated cash railway. Latest invention. Morris & Davies, in order to facilitate the despatch of business, and .. not to detain their customers .. completed, some three weeks ago, a contract with a well-known American firm to erect on their premises a complete set of rails, with carriages, celebrated as Lampson's [sic] cash railway system... In this way, Morris & Davies hope to save time, avoid errors, and afford the public - for the first time in North Wales - an opportunity of seeing a most wonderful invention." Carnarvon and Denbigh Herald, 9 Mar. 1888, p. 4
• "Messrs Morris and Davies have also introduced at their establishment Lamson's Cash Railway, which is in thorough working order... Customers are greatly amused in witnessing thrir cash and invoice taking a 'brisk walk' on the railway (narrow gauge) to the cashier's office in the centre of the establishment... Mesrs Morris and Davies are determined to uphold the reputation of the Nelson Emporium as the largest and most attractive drapery and outfitting establishment in North Wales." North Wales Chronicle, 7 Apr. 1888, p.8
• "O'r Dinas a' i chysylltu a 'Lamson's Cash Railway' prif Fasnachdy Gogledd Cymru." [Translation: Of the city with its connection with Lamson's cash railway, the first shop in North Wales] Y Genedl Cymreig, 6 Jun. 1888
CAERNARVON. Owen and Sons, Bridge Street. Messrs E. H. Owen and Son have during the past week greatly improved their premises... A Lansom [sic] cash railway has also been fixed, which will greatly facilitate business." Carnarvon and Denbigh Herald, 18 Nov. 1898, p.5
CAERNARVON. Pierce & Williams (Afr Aur) [Golden Goat], household goods. "Rheilffyrdd mewn masnachdai!. Dyfais newydd ryfeddol" [Translation: Railways in shops: a new remarkable device. We are alerted to the revolution in convenience, time saving and security in a business as is attested by the shopkeepers, assistants and customers about the marvellous American device which is called LAMSON CASH RAILWAYS. The public from Anglesey to the district round Caernarfon and the surrounding shires are invited .. to see the LAMSON CASH RAILWAY in full operation in the Golden Goat next Saturday. The truth cannot be hidden that PIERCE & WILLIAMS is the first company to make a contract with LAMSON CASH RAILWAY COMPANY to install their new equipment in North Wales.] Y Genedl Gymreig, 14 Mar. 1888
•"We understand that Messrs. Pierce and Williams, of the Golden Goat establishment, will, in a day or two, have the interesting and remarkable invention known as 'Lamson's Cash Railway' in full work." Carnarvon & Denbigh Herald, 23 Mar. 1888
CARDIFF. Arthur's Stores (1929), 94-96 Cowbridge Road. "Lady cashier wtd. for draper and outfitting. Lamson pneumatic system installed." Western Mail, 18 May 1949, p. 4
CARDIFF. Bon Marche, Queen Street Arcade. "Sale to-morrow. Expiration of Lease... Shop fixtures and fittings... Cash Railway." Western Mail, 5 May 1921, p. 1
• " A 'Bon Marche' shop close to where I grew up in Cardiff had a more modern system involving sealed containers in a tube, very similar in principle to the 'Atmospheric' system in South Devon." Brian Rolley
CARDIFF. Collins (drapers), Albany Road. "Collins Draper shop [had a cash carrier]... Loved watching them whizzing along the ceilings to the cashiers office." Pamela Cleghorn in posting to Facebook
CARDIFF. Co-op, 3 & 4 St Mary Street. "Applications are invited for a female cashier to take charge of the Central Lamson cash Office at Co-operative House." Western Mail, 20 Feb. 1946, p. 4
• "We have vacancies .. cashier for Lamson Cash Office." Ibid., 4 Jun. 1951, p. 4
CARDIFF. Devon Drapery and Outfitting Company, 71-75 Albany Road. "Sale this day ... Expensive fixtures and fittings, including including cash railway." Western Mail, 26 Sep. 1928, p. 1
CARDIFF. George Hopkins, Hayes. "Introduction of a novel invention to Cardiff... The 'cash railway system' opened on Saturday by Mr. George Hopkins, of Cardiff, at his Hayes shop... The idea is a Yankee one, the proprietors of the patent being the Lamson Store Service Company of 1, Charlotte-street, Bedford-square, London, who have already erected a similar system in Swansea for Mr Evans. Mr Hopkins has provided himself with a triple system, each of the three lines having, of course, a duplicate return track, and on Saturday evening these were all in full swing, keeping the two clerks at the desk hard at work, and as much .. to the amusement of large crowds of people gathered outside." Western Mail, 10 Jan. 1887
CARDIFF. James Howell, St, Mary Street. "Every modern convenience .. has been incorporated... A complete pneumatic cash tube installation by the Lamson Pneumatic Tube Company (Limited), 132, Cheapside, E.C.2, with points conveniently arranged on each floor and connected with a central station on the top floor of the building." Western Mail & South Waes News, 24 Apr. 1931, p. 7
CARDIFF. John James, High Street. "The cash railway is seen in full swing and not only is it in use in the lower shop but a young lady attending to a customer in the show room above has only to set the cash train in motion and the money goes down to the cashier's desk and the change is returned without the slightest necessity for the attendant to move from her counter."Pontypridd Chronicle, 13 Feb. 1891, p. 6
CARDIFF. Donald Knight (hosiery and haberdashery), Cowbridge Road East, Canton. "When goods were purchased the assistant would place the bill and your money in a metal screw-top container which was then connected to an overhead cable to transport the bill and the monies to the cashier's desk." Pressreader website
CARDIFF. Lermons, 7-9 Bute Street. "The latest mechanical measuring instruments .. special overhead cash carriers, etc., greatly facilitate shopping at Lermon's." Western Mail, 24 Jul. 1928, p. 4
• "The new premises of Lermons .. will open at one p.m. to-day... Among other improvements .. are the Lamson pneumatic cash service and a lift to all floors. The pneumatic cash station adjoins the counting-house." Western Mail & South Wales News, 13 Oct. 1932, p. 11
CARDIFF. Littlewoods, Queen Street. Wire system. Neil Merchant
CARDIFF. David Morgans. Pneumatic tube system. P. Roderick in posting to Bristol_and_Somerset_L list, 19 Feb. 1999
CARDIFF. Reese & Gwillim. Hired Lamson equipment for 10 years, expiring in 1905. In 1904 they signed a contract with BCPC for 5 years but the equipment proved unsatisfactory. Lamson offered three or four Rapid Wire stations at 45 shillings per station per annum. One of the locations involved in the court case British Cash and Parcel Conveyors Ltd. v. Lamson Store Service Co. Ltd., 1908.
CARDIFF. Woods (grocers), Radyr. Cash carrier (pneumatic tube?). Sarah Hall
CARMARTHEN. Commerce House (John Lewis). "The 'railway lines' are constructed of wood, and are suspended from the ceiling by means of steel wire. There are several 'stations', the shop assistants being, of course, the 'stationmasters'. For each station, including that in the millinery department upstairs, there is provided a wooden ball... The system .. is extensively used in America, and has been introduced with success into the leading provincial towns of the United Kingdom. Mr Lewis is to be congratulated on his enterprise in being the first to introduce it to Carmarthen... If on no other ground than that of having saved their shop assistants many a weary step .. it must, indeed, be a blessing." Carmarthen Weekly Reporter, 23 Dec. 1892, p. 2
COLWYN BAY. W.S. & S. Williams. "Their latest innovation is the Rocket Cash Railway, which has come as a great surprise, and which is of such utility in saving time." Weekly News and Visitors' Chronicle [Colwyn Bay], 25 Mar. 1904, p. 10
DENBIGH. R.G. Jones (Bee Hive). "Messrs Jones Bros., drapers, have .. installed the Lanson [sic] rapid cash railway system." Denbighshire Free Press, 22 Aug. 1908, p.4
DENBIGH. David Knowles. "Mr. David Knowles, draper, has recently added to his establishment in Vale-street a cash railway. This is a great improvement to the business, and much more convenient." Denbighshire Free Press, 9 Apr. 1910, p. 4
DENBIGH. T.J.Williams, 34 High Street. "Rilwe newydd i Ddinbych.-Y mae y cynfaer Mr. T. J. Williams, wedi agor relwe o ddesc ei arianydd i bob twll a chornel o'i faelfa fawreddog, nid i gario ewsmeriaid, ond i gario eu harian, ac i ddwyn dangosiad yn ol i'r prynwr. Y mae Mr. Williams bob amser y cyntaf i symud gyda'r oee, ac felly efe ydyw y cyntaf i fabwysiadu Lawson's Cash Railway." Y Cymro, 4 May 1893, p.5
• "It is an overhead line of rail, in the course of which there are several 'stations'. Denbighshire Free Press, 6 May 1893, p. 4
EBBW VALE, Mon. Rachel Lyons, 9, 9a and 10 Market Street. "Under instructions from the executors of the late Mrs. Rachel Lyons, Messrs. Clarke, Dovey and Co. have received instructions to sell by auction .. fixtures, fittings & utensils, including .. cash railway." Western Mail, 6 Dec. 1922, p. 2
HOLYHEAD, Angl. Co-op. Cash carrier. Jan Owen in posting to Facebook.
LLANGOLLEN, Denb. "I saw one [wire system] in use in a department store in Llangollen in 1973. We were on holiday nearby and went in to buy a pair of trousers for the 13 year old me, having somehow omitted to pack any. The canister had 'derailed' and my dad reinstated it for them. Last time I drove through there the shop was long gone." Andy Kirkham in posting to UK Railways newsgroup, 1/1/09
LLANIDLOES, Mont. Co-op. "The money went to the tills in overhead pulleys and your change came back that way too." Now the New Indian Restaurant. The Knowhere Guide
LLANDUDNO, Caern. Clares, 97-99 Mostyn Street. "The Lamson pneumatic device, which whizzed payment by tubes to the cash office and sent back the change, was removed in 2002 when the store was taken over by Ulster Stores Ltd." Historypoints website
LLANDUDNO, Caern. Hooson (Italian warehouseman and wine merchant), Mostyn and Gloddaeth streets. "The Lamson cash railway. Mr Esmoor Hooson.. has just fitted up in his large establishment the above ingenious system for transference of cash... Instead of the impatient enquiry of the tired purchaser: 'Where is my change?' the tradesman hears the favourable comments of pleased customers, as they amuse themselves watching the ball containing their payment, swiftly rolling to the desk, and quickly returning with the change." North Wales Chronicle, 27 July 1889, p.6
LLANDUDNO, Caern. George W. Mobley, Gloddaeth Street. "Mr Mobley has just caried out a great improvement in his shop, and will soon have the 'cash railway'." North Wales Chronicle, 20 Dec. 1890
LLANDUDNO, Caern. Pioneer, Mostyn Street. "The Lamson pneumatic cash system has also been installed, cash being conveyed on tubes from all parts of the building to the office." North Wales Weekly News, 27 Nov. 1924, p. 4
LLANELLY, Carms. David Evans, Bradford House. "Mr. Evans' cash railway consists of two sets of lines, one running over each of his long counters, and having as a common terminus the cashier's desk. Each line is double - for there is an up line and a down line, if we may so speak... Each assistant has a ball distinctly lettered and coloured... The system is, we learn, in operation in a few establishments in some of our large towns, and in many retail houses in America and on the continent." Llanelly Mercury, 27 Oct. 1892, p. 7
LLANELLY, Carms. Mansell & Co. (drapers), Golden Fleece (Siop yr Oen). "The establishment of Messrs. Mansel & Co., the Llanelly Drapers, has been fitted with the latest improved Meteor cash railway system in all their departments." Llanelly Mercury, 3 Aug. 1905, p. 4
LLANELLY, Carms. Puddies. Wire system. "And other shops as well." Ronald John Saunders in posting to Whriligig message board, 21/11/04
LLANRWST, Denb. Williams, London House. Rapid Wire system operating in 1975 according to article in This England and in 1977 according to Daily Mirror, 21 July, p.20. (Also David Holt.)
MERTHYR TYDFIL, Glam. John Jones & Son (Manchester House), 102-103 High Street. Cash carrier. William Hynes in posting to Facebook
Photograph of exterior. Now Wetherspoons
MONMOUTH. Halls, High Street. "The largest and smartest grocery store in town... Something in the shop that fascinated me and stopped me from getting bored while Hilda bought her groceries, was the way the money was delivered to the cash desk. There was a brass container at the end of a wire above the counter. This wire extended all the way across to the cash desk in the centre of the shop where a rather stern looking lady in a black dress sat cocooned within a small wooden office open to the ceiling above. The customer paid the counter assistant, who reached up and placed the money in the container. This he sent whizzing along the wire to the cash-desk, where the cashier would retrieve it. If change was required, she would put it in another container with the receipt and send it flying back to the counter. I loved to see these brass containers whizzing back and forth and often wished I could have a go myself." Penallt Village website
NEATH, Glam. T.J. Llewellyn (grocer). "No. 5 Wind Streer is an extensive shop, sixty feet in depth... For the expedition of business the shop has been equipped with Lamson's patent Ball-Cash Railway." Quoted from The Ports of the Bristol Channel, an 1893 directory, in Neath Guardian, 5 May 1977, p. 3
NEWPORT, Mon. Bashams, Commercial Street. "I can remember one [Lamson Cash Ball system] in a drapers called Bashams in Commercial Street, Pill, Newport, S.Wales after the war." Daily Mirror, 5 Aug. 1977, p.20
• Presumably the same shop: "A shop in Newport, Mon, in the 1930s which had a rather different system for handling the change. The money, presumably with the bill, was put inside a hollow wooden ball - the two halves screwed together - which was put on to a sloping ramp set just below ceiling level, where it rolled down to the cashier, who in turn sent it back along another ramp which sloped in the opposite direction!" Howard Fuller in posting to GEN-TRIVIA-ENG-L list, 10 Jul. 1999
NEWPORT, Mon. Cecil's (drapers), corner of High Street and Griffin Street. "Cecil's had a unique system of handling your cash. The counter assistant placed the money and bill in a wooden container which was zipped on an overhead wire to a central cashier who sent the change and receipt back in the same way." South Wales Argus website
NEWPORT, Mon. Co-op. "On the same side on Chepstow Road was .. a large Co-op with its shuttle payment system by overhead wire to a centrally situated cashier behind a glass barrier." South Wales Argus website
NEWPORT, Mon. Ellis and Allen (London House), Commercial Street. "One of the most notable improvements is that at London House... A descent to the ground floor leads to the coloured dress department .. and here it is noticeable that communication between the cashier and the different departments is provided by means of an American cash railway." South Wales Wekly Argus, 19 Nov. 1892, p. 8
• "A perfect network of American Cash Railway Lines." Star of Gwent, 25 Nov. 1892, p. 9
NEWPORT, Mon. Peacocks, bottom of town. Cash carrier. Graham Harrhy in posting to Facebook
NEWPORT, Mon. Reynolds & Co. (drapers, silk mercers, ladies outfitters, mourning warehousemen), 149-150 Commercial Street. "The best modern fittings are everywhere brought into requisition, including a complete system of cash railway." Progress: Commerce, 1893, p.168
PEMBROKE DOCK, Pemb. Reeds. "In 1942 No. 44 [Dimond Street] was occupied by Mr Percy Reed. [He] had a drapery shop here... He was also the first to have an aerial cash carrier which Miss Polly Morgan used to collect payment and return any change required." Pembroke Dock Community Web Project
PENARTH, Glam. Howells, (drapers). Lamson wire system. Peter Moon
PONTYPOOL, Mon. E. Fowler & Son. "I went into this shop with my mother on many occasions and the thing that really fascinated me was the overhead wire which carried all the money flying to a central cashier who put any necessary change in the container and sent it back for the customer." Reminiscences of old Pontypool website with photograph of exterior.
PONTYPRIDD, Glam. Gwilym Evans. "Mr Winston Davies, manager of Gwilym Evans, said ... the lift and cash tubes system was out of order [during a power cut]. 'We had to have cashiers in each department.'" Pontypridd Observer, 19 Dec. 1959, p. 15
PORT TALBOT, Glam. Co-op. Overhead cash carrier at time of WW2. Eric Perry
PORTH, Glam. Frank James, 19 Hannah Street. "Important sale... Lamson Pneumatic Cash and Docket Conveyor... Tudor Williams & company have been instructed by Messrs. Frank James and Co. (who have given up business) to sell by auction on the premises." Western Mail, 25 Sep. 1937, p. 2
PRESTATYN, Denb. Husseys. "Husseys have now installed the Gipe system of cash carrier, which will materially increase the efficiency of the business in dealing with their customers' purchases." Prestatyn Weekly, 8 Mar. 1930, p. 1
SALTNEY, Flint. Co-op. "Every Saturday morning my Dad and I used to cycle to the Co-op in top Saltney to do the food shopping. The Co-op was the main shop in the area. They had the overhead wires which delivered your money from [sic] the cashier and back again." In 1950s. Paul Hughes in Memoryshare.
SWANSEA, Glam. Ben Evans (dept store), Castle Bailey Street. "A new feature introduced into Messrs Evans' establishment is an American invention for conveying money to the cashier's desk. Lamson's cash railway consists of a ball-shaped box, in which the cash is enclosed along with the invoice and sent on to the desk." South Wales Daily News, 24 Dec. 1885, p. 3
• Wire system, destroyed by bombing in 1941. Perhaps the inspiration for Dylan Thomas' mention in Under Milk Wood. Cwrs Cymraeg i Ddechreuwyr website
• Evans Outsize had a wire system in 1950s. William Brown posting to Whirligig website 14/12/09
SWANSEA, Glam. Co-op. "For efficient cash & credit control Lamson carrier airtubes have been installed by C.W.S. Retail Society Ltd. departmental store, Swansea." Western Mail, 19 Jul. 1956, p. 9
SWANSEA, Glam. Lewis Lewis (drapers/dept store). Wire system. Closed down around 1970. Cwmgors and Gwaun-cae-gurwen website and William Brown posting to Whirligig website 14/12/09
TENBY, Pemb. T.P.Hughes, High Street, Upper Frog Street and South Parade. "Cash registers too were introduced to replace the old pressurised Lampson [sic] tube system, whereby cash and invoices were sent through a tube to a central cashier elsewhere in the store, sometimes in a different building... Since we occupied a number of buildings, the tube system ran right through the market." Western Mail, 16 Nov. 2002, p.7
TON PENTRE, Glam. Co-op. "Lily would admire the deft fingers of the assistant as she .. screwed both bill and money into the little wooden cup suspended on the railway above her at arm's length. A pull on the handle, and away the cup would go, whizzing along the overhead wire to its terminus, the glassed-in office of the cashier at the far end of the shop... This was sophisticated Emporium practice, found only in the Co-op in the Ton and in one other shop, Howells, the big General Drapers set back from the road in Pentre." Jo Bishop. Hidden Lives (Lulu.com, 2008) p. 71
TON PENTRE, Glam. Howells (drapers). Wire system. See TON PENTRE. Co-op above
TREORCHY, Glam. Co-op. "Column 8 recalls in 1952 at a very young age being fascinated by one such whizzing wire in the Co-op shop in Treorchy, South Wales." Sydney Morning Herald website
WREXHAM, Denb. C.D.Jones, Hope Street. "I was reminded of shopping in the 1950s with my mum. One shop I loved to visit was CD Jones' in Hope Street... It was a really old fashioned shop which sold mainly ladies' things. As a child, I was fascinated by the overhead wires which ran from the various counters to a single cashier. The shopping assistant would put your payment along with a receipt into a small canister attached to the wire, would pull a handle and it would be sent whizzing overhead to the cashier's box. The cashier would then sort out the change if necessary and send it whizzing back." BBC website
WREXHAM, Denb. W.& J.Prichard, Hope Street. "It will surprise our readers to hear that a new railway has been opened in Wrexham, and an overhead railway too. Its owners are Messrs W. and J. Prichard of Hope-street, and it is entirely devoted to the carriage of specie. The line, which is Lamson's patent cash railway, is constructed in Messrs Prichard's large shop... The railway has been made in America, and has been largely adopted in large business places in this country. It saves time, and ensures greater accuracy. On this line there are five stations, and it is very interesting to watch the traffic rolling about. Wrexham Advertiser, 8 Nov. 1890, p.5