Locations - Virginia
ALEXANDRIA. Goodloe Co., cnr of King and Pitt Streets. "We have only two days more in which to close out .. our cash carrier system, &c." Alexandria Gazette, 12 Mar. 1907, p. 1
ALEXANDRIA. Swan Bros, King Street. "Swan Bros. .. also intends to install one of the latest methods of handling cash. This will be the new model overhead Lamson cash system, which will make it unnecessary to have a cashier on the main floor of the store. The cashier's desk will be placed on the new balcony in the rear of the store." Alexandria Gazette, 3 Apr. 1913, p. 1

BERRYVILLE. Coiners, 24 East Main Street. "At 24 East Main is a gift shop that until recently was Coiner's Department Store, which occupied the location from 1896 to 1996. During that entire time, clerks used a pulley-operated cash carrier to transfer money back and forth to the cashier." Andrea Sutcliffe. Touring the Shenandoah valley backroads. (Winston-Salem, NC: Blair, 1999) p.65. Photograph on Art and the Zen of Design website where it is said to be a Lamson Air-Line system installed in 1899.
RICHMOND. O.H. Berry & Co. "The pneumatic-tube cash system has been put in place and the many tubes and fixtures of highly polished brass are very ornamental... The immense electric-blower, which will supply the air current fot its propulsion, is expected to arrive daily. Upon its receipt the system will be put in operation." Richmond Dispatch, 17 Sep. 1901, p. 10
• "The system used by Mr. Berry is the 'double track', and it is so arranged that the cashier is obliged to take the package coming firstand to dispatch the change before she can get another." Richmond Dispatch, 3 Oct. 1901, p. 9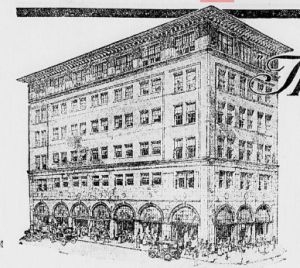 RICHMOND. J.B. Mosby & Co. "Prominent among the service features is the Lamson Pressure Pneumatic Tube System, a Lamson Parcel Collecting Belt Conveyor System, Lamson sorting Belt Conveyors and Lamson Delivery Room Equipment. This complete Lamson Store Service System .. means to the J.B. Mosby Company - 40-second cash service .. 50-second credit authorization .. more sales through an attentive sales force .. protection to customer .. protection to the clerk .. protection to themselves .. valuable space forselling only." Richmond Times-Dispatch, 10 Mar. 1918, p. 10
ROANOKE. R.B.Bass (later Gilliam-Padgett). Preferred Cable Cash Carrier, installed in 1927. Comprised 11 stations and 33 cash boxes. Store went into receivership in 1929. See Courtcases, 1933.
ROANOAKE. S.H. Heironimus. "The fixtures and cash carrier system are now being installed in our new store." World News (Virginia Chronicle) , 19 Apr. 1915, p. 6
ROANOKE. Pughs. Cash carrier. Catherine Silcox Folden in posting to Facebook
ROANOKE. Rosenbaum Bros., First Avenue. "Mr Rosenbaum has just had placed in the store a Lamson's consolidated store service, which is the most complete arrangement of its kind the reported has ever seen, and saves an untold amount of time." Roanoke Daily Times, 5 Mar. 1890
ROANOKE. Spigels, 19 West Campbell Avenue. "A four-station Lamsdon [sic] cash carrier system cheap." World News (Virginia Chronicle), 9 Aug. 1916, p. 6
ROANOKE. Watt, Kettow & Clay. "The enterprising firm of Watt, Kettow & Clay have recently fitted up their magnificent dry goods store with the most approved and modern style of electric cable cash carriages. The system is the most complete of its kind in existence... The whole system is run by a three horse power motor which drives the cables at a rate sufficiently fast to carry the cash box at the rate of 15 feet per second... There are twenty stations with two boxes for each station. These boxes work on a combination and nothing but the proper box will stop at the station for which it is intended. This is worked by means of notches and grooves. The frame is of solid wrought steel and is strong and durable. This firm will fit up the second floor of their magnificent store with this convenient device." Roanoke Times, 14 Sep. 1897, p. 5
SMITHFIELD. George W. Delk (dept store), 223 Main Street. Lamson Air-Line system. Store was built in 1989. Cash carrier retained when it became Antiques Emporium. Daily Press (Hampton Roads, Va.) 3 Oct. 2002 and Williamsburg Magazine. Shop has changed hands again and system was removed.
VIRGILINA. Torian-Tuck "We will sell cheap, one Lamson air line cash carrier system with 7 stations." Richmond Times, 29 Jul. 1917, p. 4
WACHAPREAGUE. A.H.G.Mears. "One 'Lamson' Cash Carrier outfit... Will sell very cheap." Peninsula Enterprise, 2 Nov. 1907, p. 2

indicates systems which are still there (as far as I know) though they may not be working.