Acme Cash Railway Co.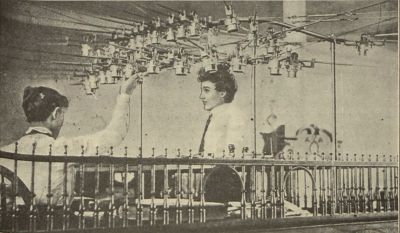 The illustration above is of the No. 32 Hand Push Carriers manufactured by the Acme Cash Railway Co. of New Haven, Connecticut. The carriers are operated by a slight push of the hand on the ends of the cars. Being balanced on ball-bearing wheels, little effort is required to send them to their destination. No springs, pulleys or rubbers are involved. Hardware Dealers' Magazine, 1 July 1919, p. 87.
"The Acme Cash Railway is built by the E.A.Burgess estate, 67-69 Court Street, New Haven, Conn., and is so effective and withal so cheap that it is a serious question if any live shopkeeper can afford to be without it."
There was an advertisement in Home Furnishing Review, vol. 13, ?1898, p. 81: "Single Wheel Acme Cash Railway. Only $14 per station and satisfaction guaranteed. Send for illustrated catalogue covering our full line. Inventors' models made to order. L.A.Holmes, manager. "
A programme of the Grand Opera House, London, Ont. for the play A female drummer on 11 October 1898 states "Acme Cash Railway Co. of New Haven furnished the Second Act with the complete system of their service. M.C. Swesey, patentee."
"The Advance records the success of the Acme Cash Railway System, made possible by patents issued to M. C. Swezey, formerly of East Patehogue. It has installed its system in some 6,000 stores , including the large department ones. Mr. Swezey, though past 60 years of age, is hale and vigorous, and travels about 1,000 miles weekly between the New Haven factory and the New York city office." Suffolk County News, 4 May 1900
The Trow Copartnership and Corporation Directory of the Boroughs of Manhattan and the Bronx, March 1901 lists "Acme Cash Railway Co. (New Haven, Ct.) (represented by Moses C. Swesey, Pres.) 74, 5th av."
Some known locations are T.&J. Dasey of Little Falls, NY, the Siegel-Cooper store in New York, and Samuel Cully of North Adams, MA. (See Locations.)
I have no information on any other models although the "No. 32" would suggest an extensive range.