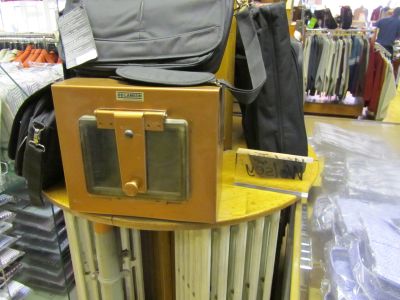 A Pneu-Art terminal in Randalls
NEWS
Cable systems in Britain
Until now I had thought that there had been no cable systems installed in the UK. (A cable system is one where the car is attached to a moving cable, usually driven by an electric motor.) However, I have found a detailed newspaper report of 1918 of one being installed in a shop in Coventry and two others in the Midlands. There was also an "electric cash railway" at Kirkcaldy in Scotland. No British systems seem to have been preserved.
Randalls of Uxbridge closed
Randalls of Uxbridge, home of one of the last pneumatic tube systems in Britain, closed for good on 31st January 2015. Sir John Randall was quoted by The Guardian: "In a way we probably are trying to keep a model going of a shop from the 1970s."
Rapid Wire system for sale
Viv Rush of Netley, South Australia has a complete reproduction Rapid Wire system for sale, formerly on loan to a museum.